Want Some Spice for your Christmas Wedding Decoration Ideas?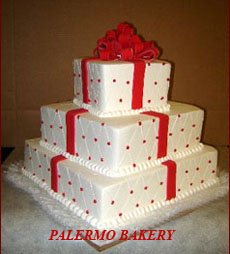 Christmas Wedding Decoration Ideas

"It's the Most Wonderful Time of the Year" sung by Andy Williams is so true.
The Christmas Season is a time of year for family and friends to get together and share traditions and conversation.  Even people on the street seem to be more polite and generous with each other.
Children are on their best behavior reveling with thoughts of Santa's arrival with gifts and goodies. 


So why not choose to get married during this engaging time of year?
The store fronts, streets and people's homes are decorated to the hilt at this time of year, so let's look at some Christmas decoration ideas for your wedding.

Decorations for your ceremony

Some churches, catering halls and hotels are already decorated for the Christmas Season with lights, poinsettias and festive Christmas trees,  so you may just need to fill in with a few of your own personal touches.
If your church or ceremony room is not decorated and you will be doing all the decorating yourself but have a limited budget consider the following:
You can hot glue red ribbon and pine boughs and tie them together with green wire and decorate every other pew.
Another inexpensive decoration idea is to go to a wholesaler and purchase potted poinsettias and place them in a container decorated with red or green foil paper.
Placing luminaries around the room will give your room a warm glow.  Making your own luminaries is easy.  Just purchase paper bags, fill them 1/3 of the way with sand or soil and place a tea light or votive candle in the bag. You'll have a great decoration at a minimal cost.
Wrap boughs or miniature white lights around pillars, rafters and windows to give an inviting, cheery sense to your room.
For an added extra touch, ask your florist if they have a runner that has a Christmas emblem instead of a plain white runner.

Christmas Wedding Decoration Ideas for Your Table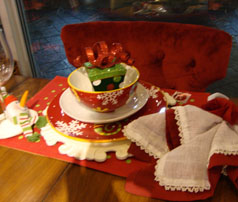 Again, most catering halls are already decorated or have at least some decorations for the Christmas Season so your main decorating focal points are your table centerpieces and cake, which can be as simple or elaborate as your budget and imagination allow.
The above picture was from a bride who had her reception in her parent's home.  Fortunately for her, they already had the red plates with snowflakes.  Her beautifully wrapped boxes served as a decoration and favor holder for her chocolates.

Centerpieces for the Budget Conscious

Brides looking to have a gorgeous centerpiece but cannot afford to spend a lot of money on their centerpieces can either make their own or purchase one already assembled.


The above beautiful centerpiece can be purchased by clicking on the picture or creating the centerpiece yourself.
To create the above centerpiece purchase a pine wreath, red candles, ribbon and Christmas pics from a craft store.  Wire the pics into the wreath along with the ribbon.  Secure a green Styrofoam block in the center of the wreath and arrange the candles in the center. Placing some baby's breath and red roses throughout the wreath will create a more elaborate centerpiece.

This great centerpiece was created by adding glass red and gold Christmas balls with some green boughs and white lights intertwined with gold twigs.
If you're planning on using this type of centerpiece determine if there is an electrical outlet under the table. If not, you can substitute the white lights with some candles surrounding the vase.

Christmas Wedding Decoration Ideas for your Cake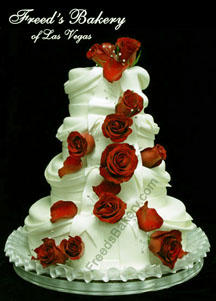 Wedding cakes are a focal point at any wedding reception.  This green frosting with red roses Christmas cake created by Freed's Bakery in Las Vegas will truly add a Holiday touch to your Christmas Wedding theme.
Christmas Wedding Decoration Ideas for a Foyer or Table Centerpiece!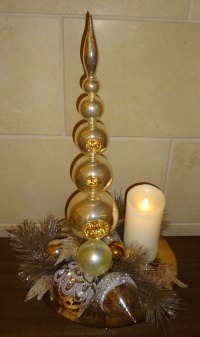 Not all Christmas decorations have to be red and green. The above gorgeous centerpiece was in the foyer of a catering hall. It's simple to create and ever so elegant!

I'd love to hear your thoughts and answer any questions you may have. For more Christmas wedding decoration ideas, check out my links below.
More great planning tips are on our Opening Page.
Pictures are copyrighted and cannot be used without written permission © 2008 - 2015 unique-reception-theme-wedding-ideas.com ® All Rights Reserved
Click Here to read our disclosure regarding affiliate and advertising sponsors.