Wedding Reception Decor Ideas
Finding the right wedding reception decor ideas to match your personality is puzzling and time consuming.
Read through my tips and together we will create your perfect celebration.
Couples have so many choices that they feel anxious and overwhelmed.  Let us begin by deciding what type of decor you would like to present to your guests.  

The entrance to your reception is quite an important element of your affair.  You want your guests to sense that they are part of something magical and romantic.
You can create an arch of balloons to walk through upon entering your banquet room.  Balloons not your thing, how about making an arch of small, white lights and tulle for a fairytale look?


More Wedding Reception Decor Ideas
If your banquet room has pillars or support beams that you would like to hide, consider wrapping them with small white lights intertwined with greenery or dried branches.
Some ceilings are plain and if you want to dress the ceiling up a bit you can float balloons on the ceiling to create a fun party atmosphere.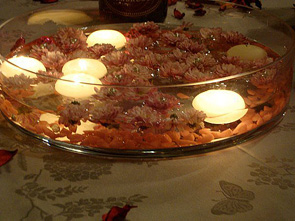 Instead of the traditional floral centerpiece, how about floating rose pedals or other flowers and candles or thinly sliced oranges, limes or other fruit that blends with your color scheme, in a clear glass bowl.

An
inexpensive decoration idea
is to dress up your table setting by asking your caterer if they would wrap the napkins with ribbon that matches your color scheme.
Topiaries also create a rich elegance and can be placed strategically throughout the room.
Additional Wedding Reception Decor Ideas.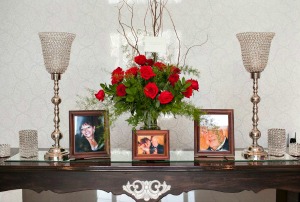 Bringing some of your home decorations to your venue is an interesting idea that would make you feel warm and fuzzy. You might want to place family pictures on the walls or entrance tables to give a little extra coziness to your wedding.
In the above picture, the bride brought some of her pictures, candle holders and table to her reception hall to honor her deceased parents. This beautiful idea helped the bride feel like she had her parents watching over her on her wedding day.
 
If you or someone in your family is talented, you can paint a backdrop on plywood, using scenery painted in a style coordinating with your wedding theme. Imagine having a Cinderella Castle painted on a movable board? Or a mural of a Tropical beach scene for a Beach Wedding Theme? Such scenery can be placed behind the DJ or band.
With solid planning, and the use of my wedding reception decor ideas, you can create the wedding of your dreams.

For more great ideas tap here!
Christmas Wedding Decoration Tips

Wedding Reception Decoration Ideas
Pictures are copyrighted and cannot be used without written permission © 2008 - 2015 unique-reception-theme-wedding-ideas.com ® All Rights Reserved
Click Here to read our disclosure regarding affiliate and advertising sponsors.