Elegant and Affordable Wedding Reception Decoration Ideas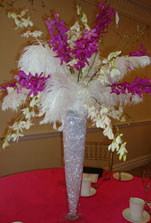 Unique Wedding Reception Decoration Ideas
You have arrived!!! We can talk about your fabulous wedding decoration ideas but first I'd like to tell you about a creative decoration that I had for my wedding.
Because I wanted a decoration that was unusual, I purchased large blocks or Styrofoam and using a small tooth saw, chiseled the letters of my husband and my names out of the Styrofoam. I then glued the letters together to spell out our first names and then put a heart joining the names together. The cost was nominal since I borrowed the saw and the Styrofoam was purchased for pennies. Wow! What a hit my decoration idea was.
The way you choose to decorate your reception hall is important because it helps create the festive atmosphere that you want your guests to enjoy. The types of flowers and colors you choose are important because they express your style.
So, let's start planning the decorations for your wedding. As with all of my unique ideas, you will first have to decide your budget and how you want your room to look. Do you want it to be simple or elaborate? Are you planning a theme wedding or a formal wedding?
Wedding Reception Decoration Ideas Fresh Flowers, Balloons or Candles?
A balloon or floral arch for your guests to walk under as they enter your reception hall will definitely make your guests feel special and add a flare of ambiance to your reception hall.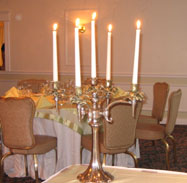 The flickering light of candles will bring an elegant touch of romance and warmth to your unique reception. Tapered candles can be placed in your floral arrangement as a centerpiece and you can also adorn the cake table with candles.
Decorating the ceiling of a reception hall is a matter of personal choice and budget. Some couples choose to hang streamers or stars from the ceiling, while other couples choose to let helium balloons float around the ceiling.
Unique Wedding Reception Decoration Ideas for your Cake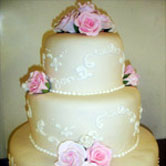 Aside from the bride and groom's table, the main focus in the reception hall is the wedding cake. Since I had two hundred people at my reception, my caterer recommended a five tier wedding cake. I chose a white wedding cake with pink rosettes. The cake sat on a table of pink rose petals and of course, the top of the cake was adorned with

Wedding Reception Decoration Ideas for Themed Weddings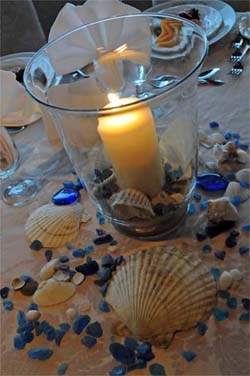 Beach theme weddings are very popular today. If you're planning a beach theme you might want to:
Consider using sand and shells.
You can have vessels filled with sand and seashells for centerpieces or bowls filled with water and float seashell candles.
Rent palm trees and disperse them throughout your room.
Place a picture of you and your hubby at the beach in a flip flop picture frame on each table. Now that's a unique decoration!
If you are planning a fall theme wedding, your wedding reception decorations will most likely include autumn colors such as: burnt oranges, burgundy reds, pale greens, yellows and browns. Using wheat stalks, leaves, pumpkins and gourds, Indian corn, acorns, wooden baskets with grapes and vines will highlight your unique fall reception.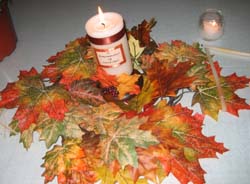 Wedding Reception Decoration Ideas for Fall Weddings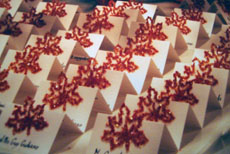 One fall reception that I attended had bright orange shaped leaves on their place cards. The name cards indicating the guest's table number were arranged alphabetically on a table as you entered the foyer of the hall.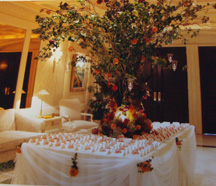 This arrangement set the tone of the wedding theme and looked quite elegant.
Some couples choose to be married around Christmas time to enhance the feeling of love and the magic of sharing that the Christmas season brings. Most reception halls are already decorated with poinsettias and holly, so you can expand upon their decorations by adding pillar candles on top of a mirror platter. If your budget permits, you can hire a snow making machine to add a sense of a winter wonderland.
Whether you choose to decorate for a traditional or theme wedding reception, use any of the above wedding reception decoration ideas and "Let your creative juices flow!!!"
You can find more ideas by checking out my other pages.

Wedding Decoration Ideas 

Cheap Wedding Decoration Ideas 

Wedding Reception Decoration Tips

Wedding Reception Decor Ideas 

Pictures are copyrighted and cannot be used without written permission © 2008 - 2015 unique-reception-theme-wedding-ideas.com ® All Rights Reserved
Click Here to read our disclosure regarding affiliate and advertising sponsors.