Winter Wedding Cakes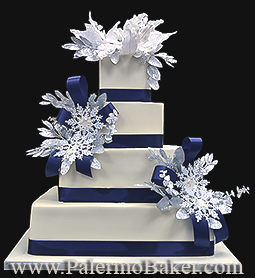 Winter Wedding Cakes

While I love all bridal cakes, winter cakes are especially beautiful because they are crisp and sophisticated.  No need to stick with a particular flower or color. Your choices can be as bold or whimsical as you like.

The above stunning, four tier square creation was made by Palermo Bakery for a bride whose color scheme was white, with navy and silver accents. The base of the cake was butter cream and the navy ribbons adorned the bottom of each layer with the snowflake accents on the corners of the cake. 

You can have a winter cake with a Christmas theme by creating a white cake with splashes of red satin fondant ribbons and bows.   The above, three tier square, gift box cake with red dots works well with a winter theme.  As an added Christmas wedding theme motif, you can replace the bow topper with small fondant poinsettias.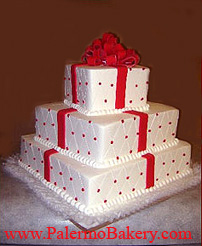 Wedding cakes that create a winter wonderland.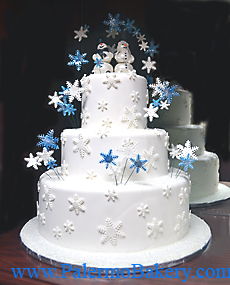 Since it's the winter season what better way to incorporate the season into your celebration than to have a cake with snowmen and snowflakes?  This adorable creation was made for a playful couple who wanted a cute three tier confectioner's delight with fondant snowflakes and sparkly blue and white snowflakes inter-dispersed throughout the sides, front and top of the cake.  To add a whimsical topper, a "snow groom" and "snow bride" were made from fondant icing.

Winter Cakes can be creative, what an original idea this bride had when she decided to have this beautiful fondant, four tier creation decorated with blue and white snowflakes. Using two toned colors definitely makes this a unique cake. This butter cream bridal cake is finished off with white roses as the cake topper.

Blue is not the only color for winter wedding cakes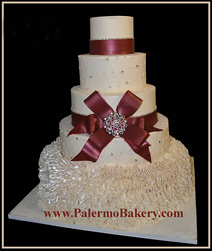 Get creative when you're thinking about your cake and think out of the box!  This unique cake has a standard four tier round cake sitting atop a ruffled fifth tier.  This could match your bridal dress by featuring a gorgeous tutu ruffle as the base. The third tier is embellished with a crystal broach in the center of a burgundy bow. I love it!!!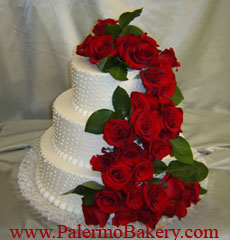 Winter Wedding Cakes can be stunning! This elegant white butter cream cake has a pin dot design on all three tiers.  The cascading red roses are the focal point of this magnificent creation.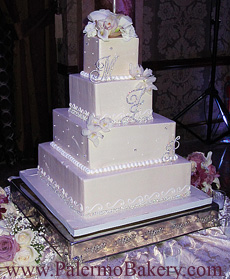 The above four tier, ivory square cake is accentuated with white pin dot and swirl details that is simply elegant. The shape of the cake gives a very sleek and modern appearance.  Crystal trim, with the beautiful pins and monogram initials help give this a unique look.  I especially like the different fondant borders on each layer.  Beautiful flowers were added by the bride, giving this cake a delicate, stylish aura.  As an added touch of opulence, notice the beautiful silver cake stand.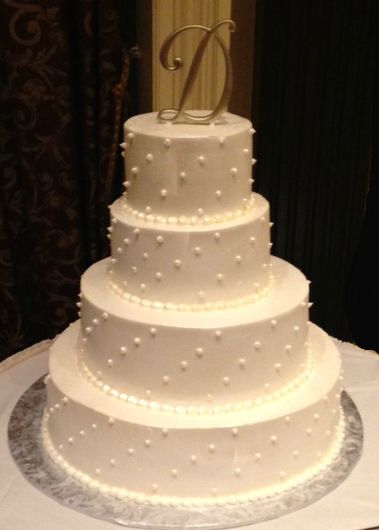 These cakes take time to design and order, so my advice is to visit a baker three to six months before your wedding date.
For more tips and ideas for your wedding cake please visit
Wedding Cake Ideas
As you can see, winter wedding cakes are beautiful and classy. Take your time deciding and enjoy the process of designing and of course, tasting the different samples of wedding cakes.

More planning ideas and great tips can be found here.

Christmas Confectioner's Delights

Disney Desserts

Winter Nuptial Ideas

Winter Bridal Themes

Pictures are copyrighted and cannot be used without written permission © 2008 - 2015 unique-reception-theme-wedding-ideas.com ® All Rights Reserved
Click Here to read our disclosure regarding affiliate and advertising sponsors.