Disney Wedding Cakes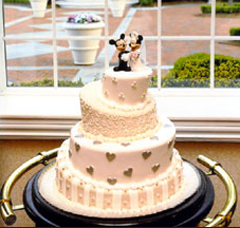 Disney Wedding Cakes

Wedding themes come and go but the Disney theme lives on, probably because of its magical effect on brides and couples who want to express their unique and creative personalities.  Disney cakes can sport Micky and Minnie, a Cinderella castle or Cinderella coach, prince and princesses and just about any Disney character that is a favorite for you and your hubby.

If you love Disney, you can incorporate a Disney cake with your theme.  If you're on a budget, you can bake a white cake and crown your cake with a  Disney theme topper.
For those of you who are a playful couple and are interested in a whimsical Disney cake, take a look at the above cake from Palermo Bakery.  I love the way the baker incorporated the dots, hearts, swirls and vertical fondant stripes into each layer. Notice that the bottom two tiers are round and the third and fourth layer are baked on a slant.  They seem to fit together with Mickey and Minnie placed on top to complete the Disney theme.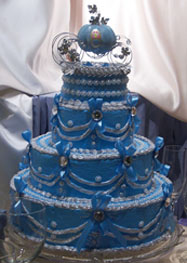 Which bride wouldn't love this blue magical bridal cake complete with a Cinderella coach adorning the top of the cake? This cake conjures up thoughts of a "Life Happily After" and is a compliment of Loren Javier of Flickr.

More ideas for Disney wedding cakes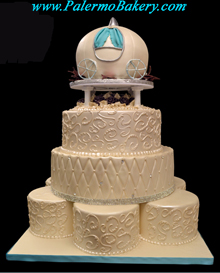 Your dream cake can become a reality with this gorgeous four tier Cinderella inspired creation.  Its elaborate scrolling and quilting are stylishly designed to complement the sculpted fondant Cinderella coach that makes up the final tier.  Cake jewelry adorns the middle tier, complementing this magical edible cake that fits right in with Disney Wedding Cakes as the perfect theme.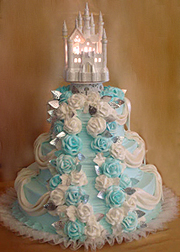 This lovely butter cream three tier cake is every bride's dream come true for her cake.  It has all the elements of a fairytale life, an enchanted ceramic castle figurine as a topper combined with alternating white and baby blue roses.  The white fondant drapes in each tier finish off this beautiful masterpiece.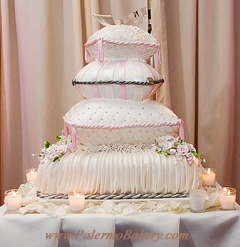 This magnificent four tier fairytale pillow cake captures the Cinderella theme by decorating the bottom tier with a fabulous drape design and other tiers with pillow shapes.  The quilted pattern stripes and swirls for the top, help highlight the fondant rope trim that wraps around the edge with delicate tassels on the corners.  Crystal pin jewelry gives this cake a bit of sparkle.  The "piece de resistance" is the glass slipper topper which completes this Disney wedding cake.
Just for your edification, Disney has a new projection cake, which costs around $3,000 for a five-tiered fake cake. You can look at this cake by typing Disney Projection Cakes in your browser and view Disney's cakes.
Disney wedding cakes are beautiful and magical like your love but not terribly difficult to create. Take your time in creating the cake of your dreams and best of all, relax and enjoy the process!

Please take a look at other planning ideas.

Wedding Cake Ideas

Cinderealla Bridal Ideas

Disney Theme Wedding

Disney World Vacations


Pictures are copyrighted and cannot be used without written permission © 2008 - 2015 unique-reception-theme-wedding-ideas.com ® All Rights Reserved
Click Here to read our disclosure regarding affiliate and advertising sponsors.