Wedding Reception Music Ideas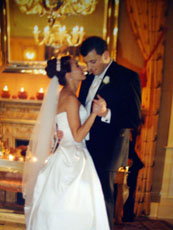 Wedding Reception Music Ideas
Music adds emotion, drama and style to every event.
So let's explore my wedding music tips before you make your music choices.
It is important to remember that music enhances the mood and provides a sense of harmony for your celebration. Therefore, before you pick your particular tunes, it's a good idea to decide if you want a live band, a DJ, singers or just background music.
The size of your budget will determine whether you hire a live band, which can be quite costly, a more moderately priced DJ, a singer, or piped in music? Some questions that may help you decide are, do you have a young, dancing crowd, or are your guests mainly older and more somber, or a combination of the two?
Wedding Reception Music Ideas for Finding a DJ, Band and Singers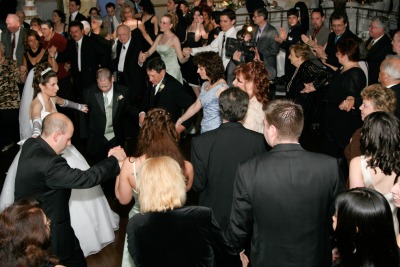 Most bands, DJ's and singers do not advertise, so asking your recently married friends, co-workers, bridal planner or banquet hall manager for recommendations is a good starting place. Once you have a list of contact names, make an appointment to hear them perform. It is not unusual to listen to them perform a second time before making your final decision.
For top of the line quality, reliable entertainers, DJ's, and live bands take a look at Entertainersplus.com. Their stellar reputation brings them many loyal followers which enables them to be hired rather quickly. To avoid the disappointment of being shut out, my advice is to choose and finalize your music contract at least nine months before your wedding date.
Wedding Reception Music Ideas for Signing a Contract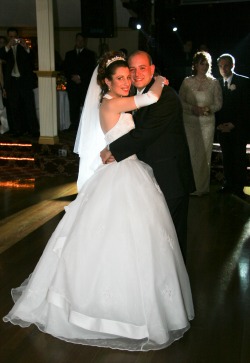 Be certain that the names of the performers are clearly written in the contract.
Your contract should include the price, date of your affair, number of hours that they will be performing, what time they will set up and be ready to perform.
Have the contract specify the price that they will charge should you choose to go into overtime, what attire they will wear, whether they will emcee your affair and if so, at what cost.

You also will want the contract to specify what they will do if a specific contract player cannot perform. You will also want to know what their refund policy is if you have to cancel or reschedule your celebration.
Discuss the types of songs you would like played and include the reception address and phone number.
Please read your contract carefully before you sign it.
Note: Make certain your DJ or band knows the exact rendition of the music that you want. Some songs are sung by different groups and you don't want to be disappointed on your special day because your favorite song is played by a different artist. Please go to my page entitled Wedding Reception Song Ideas.
Music is an important part of your reception, so choose carefully and take advantage of my wedding reception music ideas.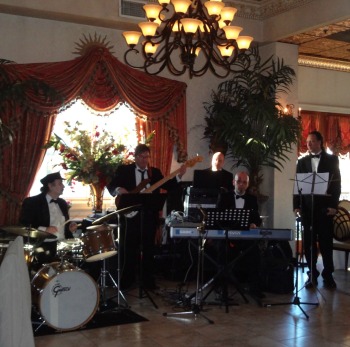 Tip: Remember to have the music loud enough for dancing but not be so loud that the guests get a headache.

Check out some of my other fine wedding tips and ideas.

Wedding Reception Ideas

Fun Ideas For Wedding Reception

Inexpensive Ideas

Reception Halls

Pictures are copyrighted and cannot be used without written permission © 2008 - 2015 unique-reception-theme-wedding-ideas.com ® All Rights Reserved
Click Here to read our disclosure regarding affiliate and advertising sponsors.