Wedding Song Ideas
Wedding Song Ideas for Your Reception

Whether you are hiring a DJ, live band or having someone you know play CD's for your wedding, it is important to do some research and planning to ensure a fun filled reception.
The popularity of wedding songs keeps evolving. In the 1960's - 1980's "More" and "Because" were the most popular first songs that brides and grooms danced to for their first dance as a married couple.
Today's couples are choosing a wide array of first songs and there really isn't one song that has jumped to the top of the list. You and your hubby should begin thinking of your first song several months before your bridal celebration. If you don't have a favorite song, ask your DJ or band for suggestions. You can also go to a music store and ask to hear some of their selections.
Below is a list of wedding songs that may help you decide which tune you would like to have as you first song, father and daughter dance music and etc. Choose your songs and let your music person know which tunes you prefer and in what sequence you think will get your guests up and dancing. (Some couples choose a slow melody as their first dance and other couples choose a fast, first dance melody, it all depends upon your crowd.)

List of Wedding Song Ideas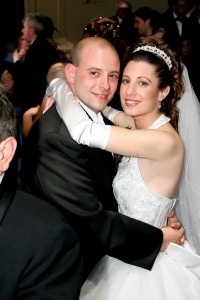 First Dance
A Moment Like This
Can't Help Falling In Love
At Last
Everything I Do
From This Moment
Father/Daughter Dance
Butterfly Kisses
Hero
Through the Years
Unforgettable
What a Wonderful World
Mother/Son Dance
As Time Goes By
Have I Told You Lately That I Love You
Mama
Through the Years
Wind Beneath My Wings
Bouquet and Garter Toss
Girls Just Want To Have Fun
I'm Too Sexy
Let's Get It On
Ladies Night
Macho Man
Cake Cutting Song
Everlasting Love
Forever And For Always
L-O-V-E
Sugar, Sugar
Thank You
Last Dance
I Don't Want to Miss a Thing
I've Had the Time of My Life
Last Dance
The Way You Love Me
Truly, Madly, Deeply
If none of the above songs excites you, contact Pat & Pete at 615-578-2035 or check out their web site at http://www.writesongs.com/vows.html. Pat and Pete can create an original song just for you and your hubby at a reasonable price.
More Tips for Wedding Song Ideas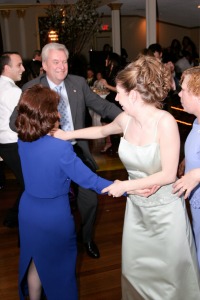 A four-hour bridal celebration will result in about forty to fifty songs being played. Choose between ten and fifteen "must have" songs and give your list to your music person well in advance of your wedding.
Guests will remain at your wedding reception till the end if they are enjoying themselves. Having your emcee announce that they will be happy to accommodate requests will ensure your guest's pleasure.
Let your music person know if there are any special birthdays or anniversaries that you would like to acknowledge.
Professional DJ's and live bands adapt their music to the personality of the crowd mixing slow and fast numbers until they determine what the guests prefer.
Listen to songs on the radio, the music at other weddings that you attend, and check the Internet to find more wedding song ideas.


For more ideas please go back to my Welcome page.
Wedding Celebration Music Ideas

Fun Ideas For A Reception



Pictures are copyrighted and cannot be used without written permission © 2008 - 2015 unique-reception-theme-wedding-ideas.com ® All Rights Reserved
Click Here to read our disclosure regarding affiliate and advertising sponsors.