Need Wedding Hairstyles For Short Hair? 
Are you confused about which wedding hairstyles for short hair to choose for one of the most important days of your life?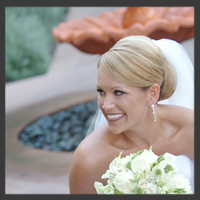 Don't fret, you're not alone, most brides become confused once they start looking through magazines, the Internet and talking to their stylist about which hairstyle will compliment their face, dress and their theme.
But for those brides who are looking for short hairstyles, look no further.  We have some great ideas for you.
Brides that have short hair have as many choices as brides who have long tresses.  Remember, you can use extensions or get a weave if you want longer locks. Take a look at the bride below who turned her short hair into a long hairstyle by using extensions.

If your hair is short and you like your hairstyle, go with it. Remember, it's your wedding day and you get to choose which style compliments you while taking your vows.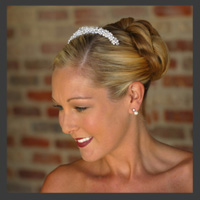 Wedding hairstyle ideas for short hair.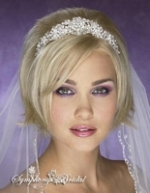 The above short bridal hairstyle gives a soft tussled look.  This bride looks wonderful with this tiara and veil. 

If you're using a hairstylist instead of doing your coiffure yourself, make certain you communicate your wishes to  your stylist about four months in advance of your wedding.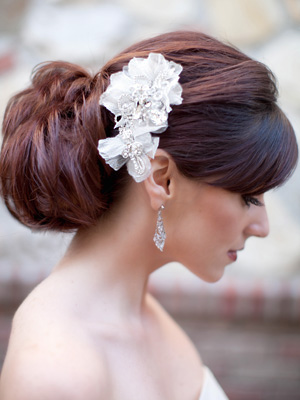 How about one of these wedding hairstyles for short hair?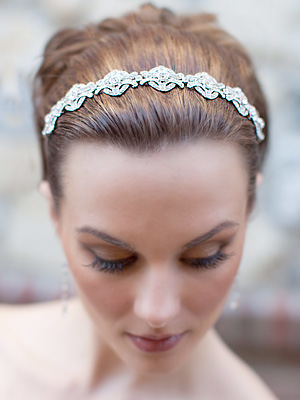 Have several practice runs and ask your bridesmaids, friends and family members what they think of the hairdo that you have chosen. If you have time and your budget permits, have your stylist practice on your hair and then put your dress and veil on to be certain you are happy with the way everything works together. You definitely don't want your wedding day to be your trial run!

The following pictures are from www.TheHairstyler.com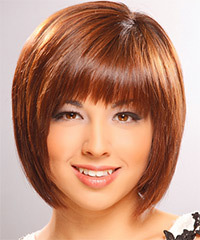 Love those bangs!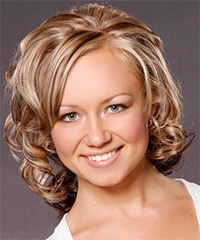 Decide if you want to go straight or curly.
If you're a modern, chic bride, how about a slicked back look with large earrings?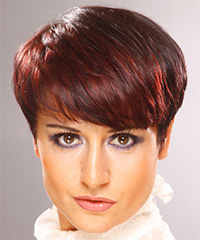 This short, straight hairstyle would look great with a high tiara and medium length veil.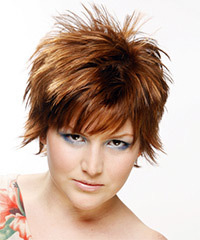 Or a spiky hairstyle for the very modern bride!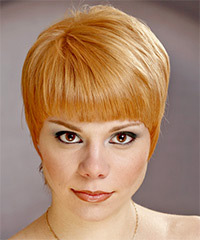 You won't have to worry about your hairdo being spoiled by the humidity or wind with this hairstyle.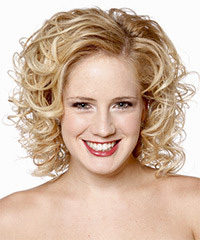 How about this fun, curly hairstyle?


There are so many wedding hairstyles for short hair to choose from, it's easy to get distracted.  Just follow the above tips and ideas and you'll find the perfect hairstyle to "knock your hubbies socks off."

Lots of great suggestions can be found here.

Wedding Day Hairstyles

Hairstyles and Makeup for Wedding Day

Updo Hairstyles

Hairstyles For Curly Hair





Pictures are copyrighted and cannot be used without written permission © 2008 - 2015 unique-reception-theme-wedding-ideas.com ® All Rights Reserved
Click Here to read our disclosure regarding affiliate and advertising sponsors.