Wedding Hairstyles for Curly Hair That Will Have You Looking Gorgeous!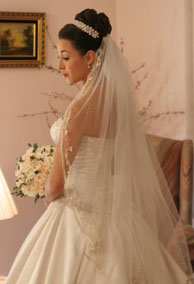 Wedding Hairstyles for Curly Hair


Your wedding day is a few months away and you're still not certain what to do with your hair for your wedding day.  Don't fret, help is on the way!
If you have naturally curly hair, it's a good idea to work with your curly tresses rather than trying to straighten it this close to your wedding date.

Heaven forbid, a mistake is made and you begin losing your beautiful hair in clumps or the process only works on part of your magnificent locks.  It's too late to fix a serious problem, so I always recommend going with your curly locks and choosing a hairstyle that compliments your face, dress, bridal theme and whether you're hosting a formal or informal affair.
Brides with curly locks have many options; you can opt for loose curls, half up/half down, an updo, pulled back or have braids on both sides and then letting the rest of your hair flow naturally.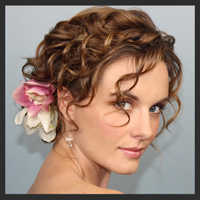 These two wedding hairstyles for curly hair pictures look great on brides who have curly hair.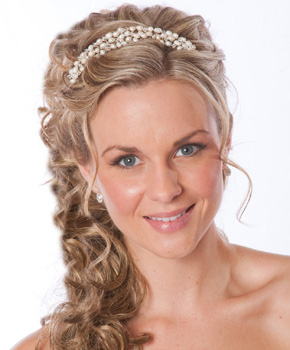 Where can you find unique wedding hairstyles for curly hair?
Begin by looking in bridal magazines, the Internet, television and hairstyle magazines in beauty salons.
Look through your photographer's portfolio.
Attend a few bridal shows and see what hairstyles their models are sporting.
Once you have narrowed your choices down

Talk to your stylist. He or she will be able to guide and advise you if a style that you like will work with your face, bridal outfit and wedding theme.
Have the stylist practice on your tresses and determine if the style that has been created is right for you.
If you're not completely satisfied with your hairdo, let the stylist keep practicing until you feel that you have the perfect style, created just for you.
The above bride chose to wear her curly locks in an updo to prevent the humidity from having her curly tresses from getting frizzy on her wedding day.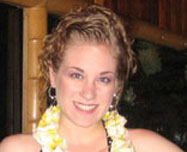 This person has naturally wavy hair and created this hairstyle by washing her hair and gelling it while it was still wet.  Then she pinned it back and placed the curls in the desired spot and let the curls flow.  While her locks were still wet she used a mega hold hairspray to keep her hair in place for the entire day.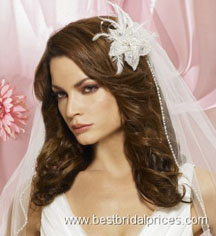 This hairstyle can be obtained by flat ironing your hair then using heat rollers or a medium sized curling iron.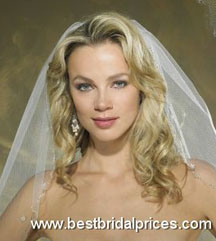 The above was another fabulous, playfully tossed curly hairstyle that was easy to create by using hot rollers.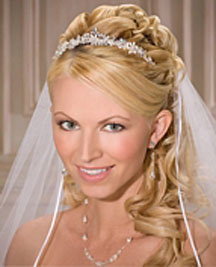 This princess half up/half down, partial updo with long flowing curls isn't as easy to create as the above hairstyles.  I would recommend using a professional hairstylist for your wedding day if this is your dream hairstyle. 
The pictures below are courtesy of www.AnthonyVincentSalon.com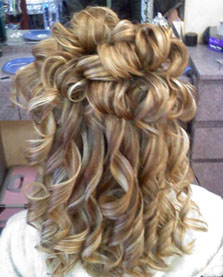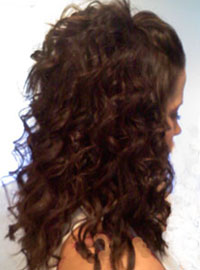 More tips and ideas for wedding hairstyles for curly hair

Have you ever used Curlformers or Magic Leverag (less expensive than curlformers)? They're fairly new and they help create perfect curls and add volume to your tresses without using heat that can damage your hair and give you split ends.  They can be purchased in different sizes.

For African American brides or brides that have extremely curly hair, check out this link for great tips and ideas.

Don't forget to purchase your hair combs, pins or clips before you go to your stylist for your practice run.  Check out Best Bridal Prices below or Hair Comes the Bride, (top right banner) for a wide selection of hair accessories.
Before you go, I want to mention that if you choose to go with a Brazilian keratin treatment to straighten your hair read about the possible side effects due to the low levels of formaldehyde in the product.
Oh! Just one more thought, many of my brides use Mary Kay products and if you would like to try some of their products or if you would like to contact a Mary Kay representative give Charisse Koleman a call at 732 637 7384.
Finding the "right" wedding hairstyles for curly hair is easy if you follow the above tips and ideas.  If you're still not certain or have any questions regarding you wedding, please contact me and I will gladly help you find whatever you need to plan your unique wedding that will dazzle your guests.
Lots of new and innovative planning ideas. Please browse my home page.

Wedding Day Hairstyles

Updo Hairstyles

Hairstyles for Long Hair

Bridal Hairstyles for Medium Hair



Pictures are copyrighted and cannot be used without written permission © 2008 - 2015 unique-reception-theme-wedding-ideas.com ® All Rights Reserved
Click Here to read our disclosure regarding affiliate and advertising sponsors.