Fabulous Ideas for Wedding Hairstyles for Medium Hair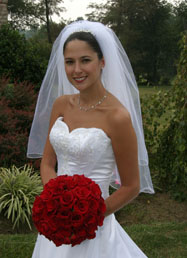 Wedding Hairstyles for Medium Hair

If you have medium length hair and are looking for some inspiration to create your wedding day hairstyle, you have come to the right place. 

Whether you are looking for a curly romantic hairstyle, a red carpet runway look or a simple "do," you know one thing - you want to look smashing and have your hubby grinning from ear to ear when he sees you walking down the aisle.
Bridal hairstyles for medium hair vary from one length blunt cuts, to soft layered looks.  The styles change by adding shorter top layers and bangs.
It will be a lot easier to choose your hairstyle if you know your theme and whether you want a formal or informal appearance.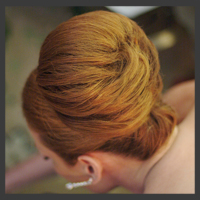 These two pictures are samples from "Hair Comes the Bride."  If you click on the picture in the right column you will be taken directly to their web site where you will find fabulous clips, combs and other beautiful accessories.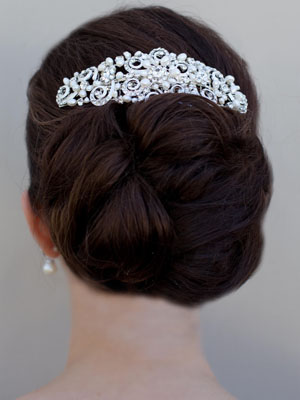 Formal bridal hairstyles include: upcurls, downcurls, updos that are smooth, half up/half down and braids.  An informal hairstyle is not structured, easy to create and free flowing.
Any hairstyle that is created correctly will look terrific and will last for your entire day.
This bridal hairstyle is a pulled back updo with a beautiful  comb for an elegant finished look.  I advise my brides that if hiring a professional stylist is within your financial means, go for it. If your budget just doesn't allow you to hire a skilled stylist, ask one of your bridesmaids or friends to help you with your hair.
However, if you're talented and believe you can achieve this hairstyle yourself, begin by putting your locks in a pony tail in the middle portion of your head.  Take a piece of hair, spray it and then curl and pin it to your head.  Continue with this until your hair is placed in the pattern that you desire.  When finished, secure the comb on the side of your head.
I would not recommend a veil with this hairstyle but if you're set on wearing a veil, I suggest a veil placed at the nape of your neck so that your veil doesn't detract from your hair comb.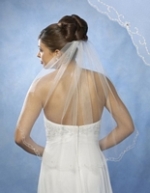 Before you finish reading my wedding hairstyles for medium hair I'd like you to take a look at
Wedding-Day-Hairstyles
for general information and then return to this page for specific tips for medium length hair.
More wedding hairstyles for medium hair
This curly hairstyle for medium hair was created by using a medium barrel curling iron and letting the curls flow.  Its soft look will coordinate well with almost any theme.  It is particularly well suited for low cut, off the shoulder and strapless wedding gowns.
This half up/half down hairstyle sports bangs whisking across the forehead and then letting the back hair fall naturally in a soft wave at the bottom.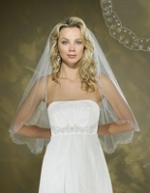 The above medium length hairstyle can be achieved by using hot rollers.  It's a beautiful, sexy style that needs a lot of hair spray to keep the curls in place, especially if you are getting married on a windy or humid day.

The above hairstyle can be achieved if your hair is just a few inches below your chin or shoulder.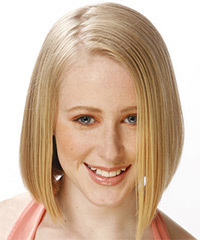 If you have the right haircut the above straight hairstyle is easy to create yourself by using a flat iron.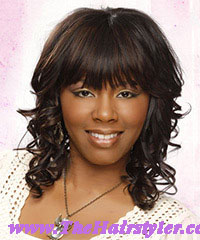 This hairstyle mixes straight bangs with curls and is perfect for a formal or casual wedding theme.

I'd love to hear your thoughts on my wedding hairstyles for medium hair.  If you have any questions or comments, please contact me and I will be happy to help you find your perfect wedding day hairstyle.

Get great planning suggestions here.


Hairstyles and Makeup for Wedding Day

Updo Hairstyles

Hairstyles For Curly Hair



Pictures are copyrighted and cannot be used without written permission © 2008 - 2015 unique-reception-theme-wedding-ideas.com ® All Rights Reserved
Click Here to read our disclosure regarding affiliate and advertising sponsors.