African American Wedding Hairstyles for the Stunning Bride


African American Wedding Hairstyles
Your wedding day is approaching and you are not certain what you want to do with your hair. You just know that you want to be gorgeous and take your husband's breath away. Relax! African American brides are no different than other brides. Follow these easy guidelines and you will look sensational.
As with all brides, your hair should coordinate with your dress, personal style, the overall theme of your wedding and complement your face and figure.
If you're small in stature and have delicate features, you don't want to go with a huge hairstyle that will overpower your face. Taller and larger brides can usually get away with bigger hairstyles.
If you're gifted and can style your own locks, go for it. However, remember that you may be nervous and under time constraints on your special day, so hiring a stylist may be a better option. Check out my page Wedding-Day-Hairstyles for tips on choosing a stylist before reading further.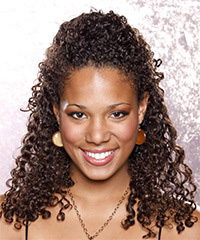 If you're and African American woman who normally wears her hair "natural" don't let anyone convince you that you should straighten your locks for your wedding day. Your natural hair texture may be perfect to create your unique, beautiful style.
How to find African American Wedding Hairstyles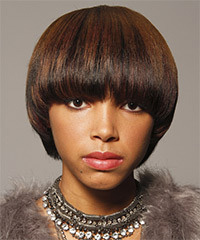 Look through magazines that cater to styles for black brides, i.e., Black Beauty and Hair, published every other month, Black Hairstyles, published annually, Braids and Naturals, also published annually, Hawker Consumer Publications Ltd. is a leading publisher in ethnic styles. Essence is another popular magazine you may want to browse through.
An Updo for an African American Woman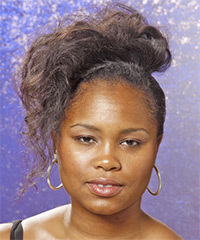 The Internet has many web sites that you can browse through to find unique bridal hairstyles.
Beauty parlors usually have professional styling books that can help you get ideas.
Of course, ask your friends and family members for pictures of recent brides to obtain some tips.
Gather your bridal party and go to a bridal show or hair show for ideas on fashionable hairstyles.
Check out TV shows for celebrities with hairstyles that you find interesting.
Ideas for African American Wedding Hairstyles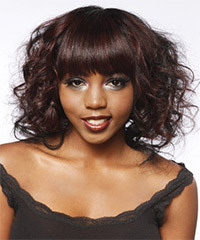 Cornrows, braids and micro braids are deeply rooted in African traditions. They are time consuming to achieve but offer versatility and will last for a long time.
If you're concerned about the heat and humidity, you can flat iron or chemically straighten your hair and wear it pulled back, in an updo, simple bun or leave it long and flowing.
Some African American brides don't have the long length or volume that they desire, so they add volume with extensions or having their hair professionally weaved. You can use simple clip on pieces to add body, length and volume to your hair.
Long flowing curls as shown above, are a classy bridal hairstyle that can be achieved by using a curling iron, or hot rollers.
Check out the below website for great combs and other fabulous hair accessories!

Whichever African American wedding hairstyles you are considering, don't forget to practice doing your hair with all your bridal day make up and accessories that you will be using on your wedding day. You don't want to be in a situation where you forgot your clips, pins, comb, or anything else.
For hair clips, pins, veils, combs and tiaras, click on the link below "Best Bridal Prices" for hair accessories that are reasonable in cost.
Check out our beginning page for wonderful planning ideas.

Pictures are copyrighted and cannot be used without written permission © 2008 - 2015 unique-reception-theme-wedding-ideas.com ® All Rights Reserved
Click Here to read our disclosure regarding affiliate and advertising sponsors.