Wedding Dresses With Color For Modern Brides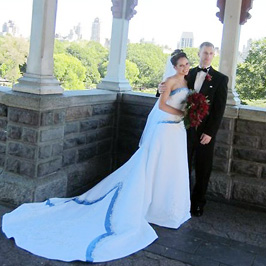 Wedding Dresses With Color

As I mentioned on my unique wedding dresses page, brides wore their "Sunday Best" on their special day. 
Therefore, all colors were acceptable and brides wore their prettiest dress for their wedding.

Then, Queen Victoria wore a white dress in 1840 and that was the beginning of brides wearing white dresses.  With the exception of a few cultures, (red is the traditional bridal dress color in China, India and Vietnam) this tradition continues to be in vogue.
As with hem lines that go up and down, the color of wedding gowns are changing too. More and more brides are looking to be creative with their gowns and are choosing to add some color to there bridal dress.
Some brides are choosing outfits that are varying shades of white, while other brides are choosing dresses that have colored trims, borders, sashes, bows, beads or panels. 
Many brides are deciding that white just doesn't compliment their skin tone and are opting for their favorite color which could be black, any primary or pastel color. 
Bridal gowns with color accents can be distinctive and eye caching.
How to choose wedding dresses with color.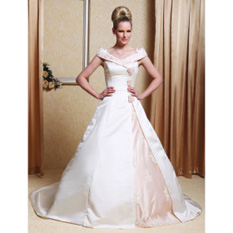 Brides who want to be daring and bold should first consider:

The season of the year that they will be married. Spring and summer weddings tend to lend themselves to light pastel colors while fall and winter celebrations tend to have deeper, darker colors.
Your wedding theme. If you're having a Renaissance theme, black, maroon or a deep green would work beautifully.
Whether you are having a formal or informal wedding. Light blue or sea green would be suitable for an informal beach wedding. Ruby red would coordinate well with a formal Valentine's affair.
More Ideas for Wedding Dresses With Color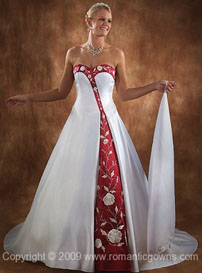 The above A-line gown has a dramatic diagonal design with a sweetheart neckline.  The white floral appliqué pulls the red and white together in an elegant way without being overpowering.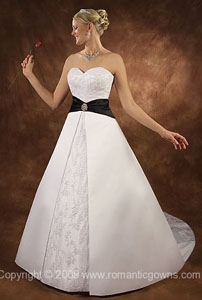 For the bride who wants her dress to look a little different between her ceremony and reception, this beautiful strapless gown is stunning with its detachable sash.  It can be purchased in several varieties of color choices.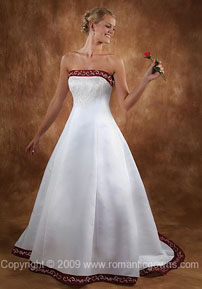 If you're looking for just a hint of color, consider a gown with a thin colored border on the neckline and hem.  This gorgeous A-line/princess gown has a chapel train and has many different color accent choices.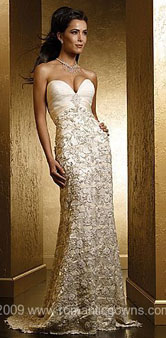 Another way to introduce a bit of color into your bridal dress is to choose colored beads, or patterned appliqués. 
Your color scheme can be extended by choosing the same color for your bridesmaid's dresses as the color accented on your wedding gown.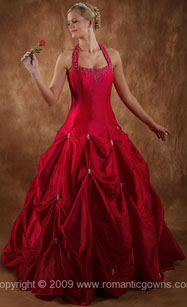 Wedding Dresses With Color for Brides on a Budget

If you're on a tight budget, choosing a colored dress will make life a lot simpler.  You can go to any department store, boutique, internet store or e-Bay and purchase the dress of your dreams in any color, for a fraction of the cost of a typical bridal gown.
The above dress pictured in red is made from a luxurious matte Duchess bridal satin.  It is bejeweled with cream and clear cut crystal beading embellished with diamond shaped appliqués in the center of each pick-up.
Wedding dresses with color don't have to be shockingly outrageous.  Whether it's a hint of color in the sash, or a totally colored dress, be tasteful and remember you're the bride, so you get to choose what color will make you look dazzling.

Come browse our opening page for more thoughts and great tips.
Unique Wedding Dresses 

Black Gowns

Colored Gowns

Red Dresses

Silver Bridal Gowns



Pictures are copyrighted and cannot be used without written permission © 2008 - 2015 unique-reception-theme-wedding-ideas.com ® All Rights Reserved
Click Here to read our disclosure regarding affiliate and advertising sponsors.