Wedding Cake Designs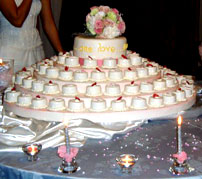 Unique Wedding Cake Designs 

If you're looking for designs and ideas that will compliment your very special wedding day, you have come to the right place.

Your cake is an important part of your reception because it symbolizes more than just a sweet dessert.  It is the focal decoration at your reception, so let's not scrimp on the planning phase.
Before going to a baker look through bridal and cake magazines.  Take a trip to your local library and thumb through the pages of bridal books.  Spend a few minutes on your computer looking for pictures.

This unusual cake was designed to resemble the bride's dress. Imagine how surprised your quests will be to see your bridal cake be a take off of your wedding gown?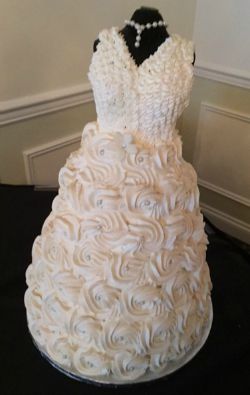 How to decide which wedding cake designs are best for you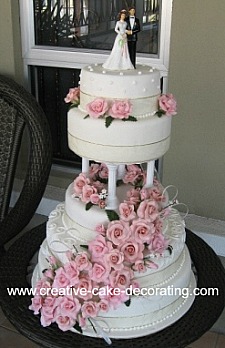 The above magnificent creation has beautiful detailed pink roses and pillars holding up the top two layers of the cake. I especially love the pearls and ribbon effect.

Once you have an idea of what type of design you have in mind, think about how much of your budget you want to dedicate to your cake.  Most bakers and pastry chefs charge by the slice; butter cream icing is less expensive than fondant decorations.  Fresh flowers are one of the easiest and least expensive options to decorate your special creation.
The designs of your cake are endless.  You have many shapes to choose from. If you are a traditional couple then you will probably decide on a round, tiered style.  More contemporary couples would probably choose a square, oval, hexagonal or octagonal shape.
Many couples are choosing a wedding theme and their cake is reflective of their theme.  A beach theme would call for a cake that has seashells, starfish, anchors, and dollar fish decorations. A fall theme could have orange, brown, and red leaves decorating your masterpiece.
If you and your hubby are into music how about a cake with fresh flowers and musical notes as your decoration?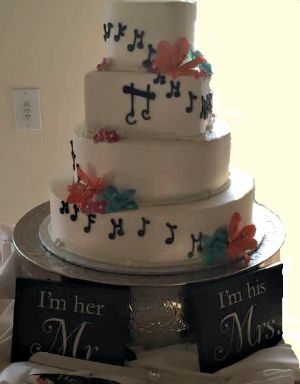 Thoughts for Wedding Cake Designs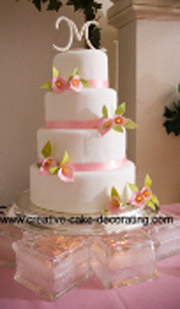 Gone are the days when your baker would top your cake with a plastic bride and groom.  Today's couples are choosing more elaborate toppers such as a custom made elegant monogram, or a Precious Moments ceramic topper.  In any case, your topper should coordinate with your theme as this one did from www.creative-cake-decorating.com  (See pictures above and below.) If you're working with a tight budget you can ask your family members or friends if you can borrow their topper if it fits your motif.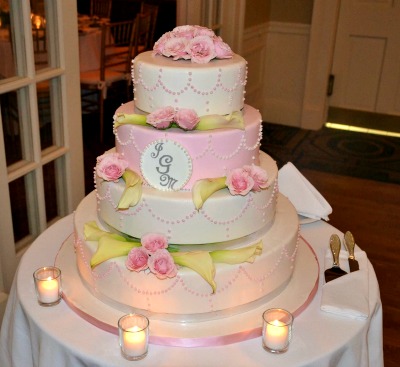 Wedding Cake Designs that Include Fresh Roses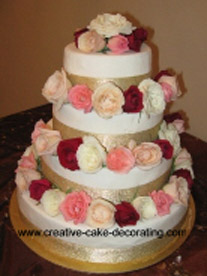 Oh! Don't forget your cake stand.  You can use your baker's stand or purchase one for yourself.  If you opt to buy your own, go to a bridal store or ask your baker to help you find the right one that will show off your cake.
Remember - it's your special day and you get to choose whatever you like whether the style is traditional or chic and modern.  Create what pleases you and your hubby.

Today, wedding cake designs and ideas are infinite and your choices are only limited to your creativity and imagination.

Let's look at some more wedding planning ideas.

Pictures are copyrighted and cannot be used without written permission © 2008 - 2015 unique-reception-theme-wedding-ideas.com ® All Rights Reserved
Click Here to read our disclosure regarding affiliate and advertising sponsors.