Vintage Wedding Theme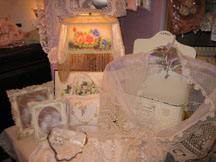 Vintage Wedding Theme

Vintage themes are about style, romance and class.  More and more brides are choosing the elegance of vintage weddings with its refined floral china, stationery, favors, fine lace, hand fans and parasols.
Vintage themes are rising in popularity and have now spilled over to the reception, bridal attire, cars, cakes, centerpieces, favors and music.
Where to begin with your vintage wedding theme
If you budget permits and you are catering your wedding reception, consider renting an old house with a wraparound porch, a mansion, or any other charming venue.  If you're looking to conserve on the reception costs, how about hosting your reception in a grass field or an old barn?

Decorations

Choose your overall color scheme (use soft pinks, blues, greens and creams, avoid very bold colors, metallics, and fluorescents) use the soft colors for the table linens, centerpieces, favor wrapping and cake.  If possible, decorate the chairs with seat covers that have satin sashes.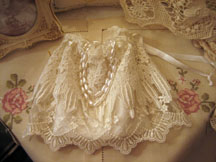 Use beading, pearls, candles, ostrich feathers, mirrors, mini roses and baby's breath to create a fabulous table centerpiece.
Lace table cloths, tea light candles and napkins wrapped with pearls will add a finishing touch to your table that will surely make a positive statement to your guests.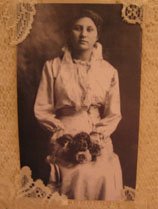 If any of your family or friends have old black and white photos ask them if they will permit you to display their photos around your reception room.

Favors

There are many web sites that offer favors catering to a vintage wedding theme.  Consider vintage style photo frames, feminine handkerchiefs, letter openers wrapped with pretty ribbon for the ladies and retro men's handkerchiefs.  If you have the time and inclination, you could make your own scented sachets from vintage fabric or lace.

More Vintage Wedding Theme Ideas


Vintage Cars

Most limo companies have vintage style cars for hire.  If money isn't an object, hire a Rolls Royce or an old fashioned trolley car to chauffeur you and your bridal party to your ceremony and reception.
One large consideration – Most vintage cars are not air conditioned; be sure to ask the car company if the car that you chose has been outfitted with A/C and heat.

Vintage Wedding Cake

Talk to your baker and ask to have a tiered wedding cake with whipped cream and small florets made of butter cream.  Use an old fashioned cake topper consisting of a bride and groom with a starched lace doily to create a vintage look.
Vintage Wedding Attire

Ask your friends and family members if they have a well preserved wedding dress in their attic that you can borrow or have.  If not, check out the bridal stores, magazines, second hand stores and newspapers for a vintage style wedding dress.
Perhaps you know someone who is talented and can make your bridal gown.  Wear pearls and gloves to add a touch of elegance.

Vintage Wedding Theme Dresses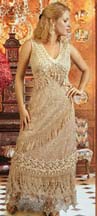 The above mid-calf length overdress with a semi-fitted bodice made of cluny lace featuring a variety of Benise lace trim is available from www.martinmccrea.com The back of this dress has lace-up detail for added fit, while the hem on the overdress has a point d'espirit ruffle.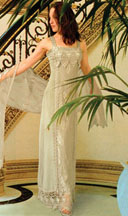 This vintage wedding theme dress is made of heavy silk crepe with princess seams and lace panels running the length of the dress both in the front and the back. Corset style lacing in the back helps in achieving a perfect fit. The square neckline works well with broad shoulders and small bust lines.
The matching straight shawl is made from the lace used in the panels of the dress.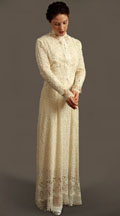 The above picture is cut on the bias and fitted through the bodice; this wedding dress is perfectly suited for a destination wedding. With liberating comfort and flirtatious fun, this dress is made with a floral design lace bodice and a pointed drop waist that attaches to a breezy, full skirt for the dancer in you.
A cropped lace jacket matches the bodice lace of this dress. It is gathered with a button & loop closure at the center front and vertically on the sleeves for a modern take on a vintage look.
When it comes to the groom and the ushers, your options are limited.  Brown is the most suitable color; however, you can opt for a morning suit with top hat.
There is a much larger selection for bridesmaid's dresses than for groomsmen.  Consider dusty rose or gold for a vintage theme; add a pearl necklace, earrings, vintage handbag, pearl or floral hair combs. Gloves will give a refined look and complete your outfit.

Ceremony Ideas for a Vintage Wedding Theme


If you are having your wedding ceremony in a church, ask your officiate if you can decorate using lace, satin ribbon and bows, lots of candles, and flowers with baby's breath.  Have your flower girl carry a hand basket and throw rose petals as she is walking down the aisle.

Vintage Music

Most people will enjoy dancing to some vintage tunes but if you don't plan on having your band or DJ play vintage songs for the whole reception, do incorporate some tunes into the line-up.
No vintage wedding theme would be complete without a love song played during the bride and groom's first dance.  "Love is Here to Stay," written by George and Ira Gershwin is a fabulous "first dance" song, written in 1938.  Couples can find a plethora of resources on the Internet to find their perfect vintage wedding song.
Vintage Flowers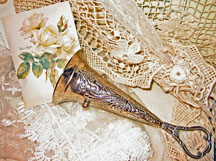 Victorian brides carried a silver cone shaped holder with flowers called a tussie mussie. If someone in your family has a tussie mussie that you can borrow, great, if not, try going to an antique shop or visit
Gingerbreads, 49 Main Avenue, Ocean Grove, NJ 07756. The owner is Terry, and you can e-mail her at GingerbreadsOceanGrove@yahoo.com or call her at 732-775-7900.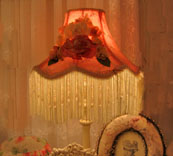 A vintage wedding theme is no more difficult to plan than a traditional or modern theme.  Just do your research by looking at old photos, talking to some older people, and of course check out the web. One thing to remember if you are choosing a modern theme, some day your wedding will be vintage too. LOL
Tap here to explore some magical wedding ideas.
1940s Theme Wedding

Renaissance Wedding Ideas

Victorian Wedding Dresses


Pictures are copyrighted and cannot be used without written permission © 2008 - 2015 unique-reception-theme-wedding-ideas.com ® All Rights Reserved
Click Here to read our disclosure regarding affiliate and advertising sponsors.