Tropical Wedding Reception Themes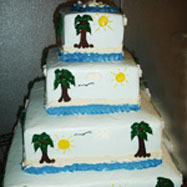 Tropical Wedding Reception Themes

OK, you hate the cold, dark winter months and are looking forward to a tropical wedding reception but aren't quite sure about which type of themes will work for your reception.
The first item of business is deciding where you will hold your wedding reception.  Will it be on a beach, in your backyard, catering hall or do you want a tropical destination wedding? 

Tropical themes are great and if you are fortunate enough to live near a beach, your setting is already created by Mother Nature. You'll have the sand and sound of the waves breaking as serene background "music."
You can choose to make your reception as formal or casual as you and your hubby decide.
If you're having your reception on a beach, make sure your guests know they will be walking in the sand so the ladies can bring appropriate shoes.
Ideas for Tropical Wedding Reception Themes
Perhaps there is an aquarium near the beach and you and your hubby would like to host your reception on the grounds of the aquarium. Or, you may choose to have your reception in a botanical garden when all the orchards are in full bloom.
Once you've determined where the reception will take place, you need to let everyone know you are going to have a wedding reception that will have a tropical theme by choosing tropical looking "save the date cards."  Look for notices with palm trees, vibrant flowers, surf and sand, fish, sea shells, anything that will conjure up thoughts of the tropics.

Tropical wedding reception themes stationery and invitations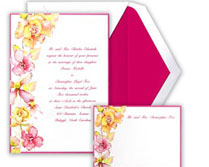 Continue setting the tone for your tropical wedding bash when you send your invites. Use bright colors, flowers, bamboo sticks and sand dollars to adorn your invites. Consider having your invites printed in fuchsia or orange ink.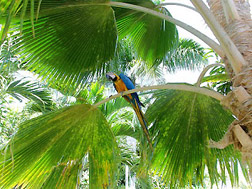 Decorating Ideas for Tropical Wedding Reception Themes

How about renting a vibrantly colored parrot for the day and have the parrot sitting in a beautifully decorated bird cage right on the entrance table? Just make certain none of your guests tries to touch or feed the parrot.
Selecting colorful centerpieces, lighting, place cards, and a tropical designed wedding cake will add to the atmosphere of your theme. If you're having your reception on the beach how about using tiki torches for lighting once the sun goes down?
Purchase a large tray, fill it with sand and set your colorful place cards in the sand.
Large blooms amid bright red and orange flowers with long stems will create a paradise looking centerpiece. If you're using a florist, ask them if they can make an arrangement of tropical flowers such as heliconia, ginger, birds of paradise, musas, and orchids.
Money Saving Ideas for Tropical Wedding Reception Themes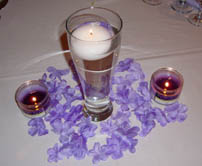 If you're using silk flowers to surround your centerpieces or decorate your place card table, go to a dollar store and purchase colorful leis.  Cut the necklace in half and strip off the flowers.  There are around twenty five flowers per lei, a lot less expensive than purchasing silk flowers in a craft store.
Wrapping large candles in colorful tulle and tied with coordinating ribbon will make a great inexpensive favor.

Music

Tropical wedding music is another element which will add a special touch to your reception. Ask your D. J. or band to play some of these songs along with your other selected music:
"Come Sail Away" (Styx)
"Sitting on the Dock of the Bay" (Otis Redding)
"Underwater Love" (Faith No More)
"Under the Boardwalk" (The Drifters)
"Caribbean Queen" (Billy Ocean)
"Sea of Love" (The Honeydrippers)
"Love is the Seventh Wave" (Sting)

If money is no object, hire a ukulele player to perform during your cocktail hour.

Don't forget about your tropical wedding cake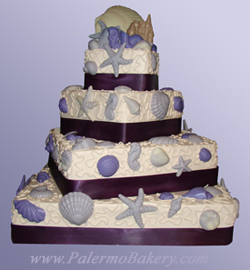 The above four tier wedding cake will look fabulous at your reception.  With its iced ivory buttercream frosting and dark purple material ribbon, along with the pipped scroll work, adds a lovely soft touch, making this cake ideal for your tropical theme. The sides of this nontraditional cake are adorned with grey and violet fondant star fish and shells. 

Food and Drinks for Tropical Wedding Reception Themes

Serving tropical drinks with the ever so cute little umbrellas, or coconut shell glasses filled with rum punch will certainly add to your tropical theme.
Create an eye-catching display of tropical fruits like, pineapples, mangoes, coconuts, bananas, grapes and melons.
Consider serving food that you would typically find at a luau. Honey glazed ham, tropical fruit salads, roasted pork, stir fry noodles, macadamia nut crusted chicken with honey mustard sauce and fried plantains will have your guests feel like they are at an authentic Hawaiian luau.


Attire for Tropical Wedding Reception Themes

Take a gander at the starfish hair clip that would work with any tropical theme.

Wear a wreath of colorful flowers in your hair and carry a bouquet with tropical flowers as mentioned above. 
Your guests may enjoy dressing a little more casual than they would normally dress at a wedding so ask them to wear something that has a tropical theme.
Tropical wedding reception themes are easy to create, just use your imagination and check out some of my beach wedding links listed below.
Have a gander at some more planning ideas.
Beach Wedding Ideas

Tropical Theme Wedding Cake Designs
Pictures are copyrighted and cannot be used without written permission © 2008 - 2015 unique-reception-theme-wedding-ideas.com ® All Rights Reserved
Click Here to read our disclosure regarding affiliate and advertising sponsors.