Peacock Wedding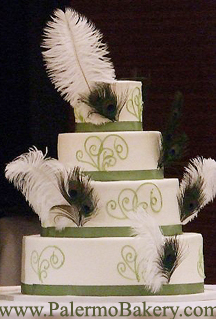 Peacock Wedding Ideas

Do you ever feel that a traditional reception is too bland, or that you would like a celebration that has a certain "pizazz" and "originality" to it?

Do you have a love for birds, but find the dove to be overdone?

A peacock theme may be just what you are looking for.  This theme is based around beautiful vibrant  feathers, with the color theme being blue, aqua blue, green, and a final bright color such as yellow or white.

Clothing, furniture, and the setting can all be traditional such as black tuxedos, white or blue dresses, white tablecloths and frilly drapes for the actual setting. It is the minute detail where peacock feathers and their color come into play.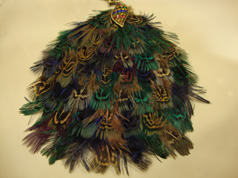 In order to introduce the Peacock Wedding Theme, the "Save the Date" cards and invitations should contain a peacock feather background. The invitation should not only convey the theme, but should also introduce the wedding as lively, vibrant and glamorous such as the beautiful bird itself.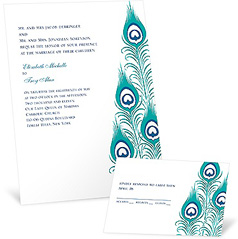 The above invite can be found at Invites by Dawn.

The bride should have an outstanding dress to say the least. The dress for a peacock wedding theme should spread out showing off the glamor and beauty as though she were the beautiful bird she imagines.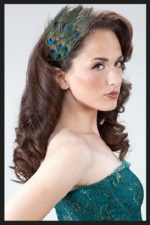 The dress could have a blue or dark green base, followed by a more colorful layer and finally peacock feathers that stand out.

If you prefer to wear a traditional white dress how about peacock accessories?

A veil or headdress made of peacock feathers would give that extra chic touch.

Headdress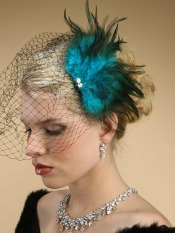 Or you may choose a Headband instead of a veil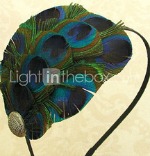 How about these great looking shoes?

Want a great gift idea for yourself and/or your bridesmaids?  Consider this peacock necklace
The groom and his groomsmen would pull the peacock theme together by wearing a black tux and shirt and tie that follow the peacock color pallet.

To my knowledge, there are no car designs or peacock floats for rent, however you could decorate the hood of your car with a peacock decal.
 
Since the peacock is a formal looking bird, it is likely that you would take a more conventional approach with transportation. The Lincoln Executive cars would be suitable for most. However, if you were looking for a more flashy arrival, you could look into arriving in a Mercedes Benz or Bentley.

The bridal reception for such an affair could be a catering hall, clubhouse, or a country club.

The reception room should be decorated with plenty of flowers, with some of the flowers being more subtle or unusual such as lilac, orchid, or even lavender complimented with a few more (yes, you guessed it) peacock feathers.

Decorations and bouquets could consist of purple and green flower arrangements and for a simple, springtime feeling, flower petals would be spread around the hall or church to add a little extra pizazz.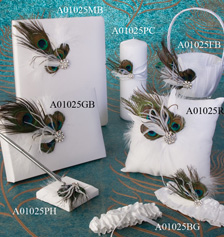 Let's not forget the guest book, ring bearer pillow, garter, wedding candle and etc.

The above can be purchased at Best Bridal Prices. See below.

Favors are important because they are the one item that people use to remind themselves of the wedding and experience, so creativity is important.

Favors for the wedding could be metallic pins in order to add some fashion jewelry to help create that special "look."

Another unique idea for a favor is actually one square inch glass, engraved with the image of a peacock along with the name of the bride and groom.

Other favor ideas could be simple necklaces or bracelets that coincide with the theme of the wedding.

Peacock Bridal Cake


Last, but certainly not the least important aspect of the Peacock Wedding Theme is the cake.

The simplest idea is to have a traditional white wedding cake and have peacock feathers scattered throughout the cake.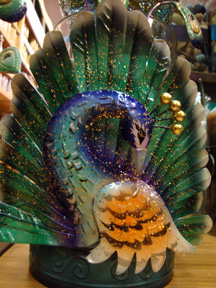 Peacock Wedding Cake Topper
Or, if you're looking to shave a few dollars off your budget, you could have an all white cake made and use a beautiful peacock cake topper.

A peacock wedding theme is original, vibrant and classy, while creating a very memorable wedding and environment for that marriage of a lifetime.

Find some great ideas while visiting our Welcome page.
Wedding Theme Ideas

List of Wedding Themes

Bridal Checklist
Pictures are copyrighted and cannot be used without written permission © 2008 - 2015 unique-reception-theme-wedding-ideas.com ® All Rights Reserved
Click Here to read our disclosure regarding affiliate and advertising sponsors.