Tea Length Wedding Dresses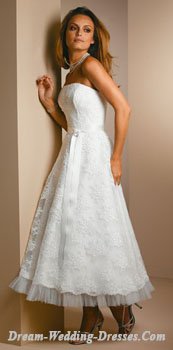 Tea Length Wedding Dresses

When it comes to making a decision about your dress you get emotional and all kinds of romantic thoughts float through your head. 

You want to look your absolute best but aren't certain which dress length you want to choose as your bridal dress.
So let's begin.
A tea length bridal dress ends somewhere between the knee and ankle and look best on taller women but can be worn by any bride who wants to show off their attractive legs.


Choose a Tea Length Dress?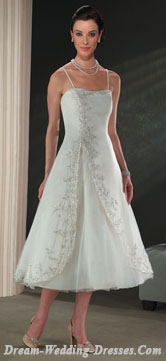 You feel a short dress is too casual for your theme.
A tea length dress is an ideal choice for beach themes as they won't drag in the sand and are cooler than the traditional bridal gown.
You're having a destination wedding and don't want to pack a long gown.
A long dress won't show off your beautiful shapely ankles.
The marriage is taking place in a warm weather climate and a tea length dress will be much cooler than a long bridal gown.
You've purchased fabulous, sexy bridal shoes and don't want them hidden under a long bridal gown.
You're a unique person and want your wedding dress to be different and memorable.
As a second time bride you don't feel comfortable wearing a traditional, long ball gown. Tea length dresses have a tendency to be less elaborate and appeal to a more mature bride.
Tea Length styles seem sassy and just "right" for your celebration day.
More on Tea Length Wedding Dresses
The above strapless bridal dress is a perfect, stunning summer gown with flowing layers of organza. It features an embroidered bodice with a satin belt and will certainly turn heads.

This gorgeous satin halter dress is perfect for a beach celebration. Its sexy and sophisticated style with an open back adds just the right touch for the bride who wants to be remembered.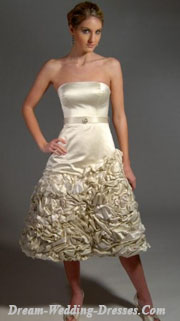 If you're looking for very different tea length wedding dresses consider the above strapless silk Duchess satin gown with its ruched skirt.



This unique, asymmetrical hemline bridal dress is perfect for a casual affair where the bride wants to show off her beautiful legs.

The below chiffon strapless dress with its high/low hemline is another choice for the bride who has sexy legs and has beautiful shoes that she wants her guests to notice.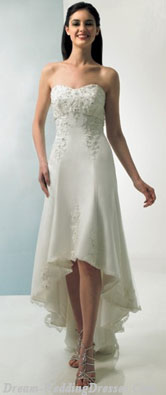 OK, so now where do you begin shopping for tea length wedding dresses?  Of course, you can visit your local bridal shops, department stores and look through bridal magazines or you could shop on line.
The pictures on this page are from Dream Wedding Dresses.
Please visit my links below to get more ideas for bridal dresses and unique ideas.

Need more magical thoughts? Come see our Welcome page.

Unique Wedding Dresses

Wedding Dresses With Sleeves

Short Bridal Dress Ideas




Pictures are copyrighted and cannot be used without written permission © 2008 - 2015 unique-reception-theme-wedding-ideas.com ® All Rights Reserved
Click Here to read our disclosure regarding affiliate and advertising sponsors.