Summer Wedding Dresses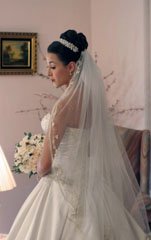 Summer Wedding Dresses  to Dazzle Your Prince Charming

More weddings take place during the warm summer months than any other time of year.  Since you and your honey have decided on a summer celebration, I'd like to give you a few simple tips before choosing your bridal dress.

If you're getting married in a climate unfamiliar to you, check out the summer average temperatures and conditions. Will it be hot and dry or hot and humid? Will there be a light breeze, what are the chances of a hurricane?  The answer to these questions will help you decide on your style, fabric and length of your wedding dress.


Fabrics for Summer Wedding Dresses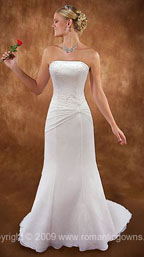 It stands to reason that if it's going to be a hot day and you'll be outside for any period of time or heaven forbid, the air conditioning isn't working properly, you'll want to be wearing a lightweight, airy dress.  Anyone of the following fabrics will work.
Charmeuse
is a lightweight luxury fabric that has the sheen of satin and the rich softness of silk.
Chiffon
is a breathable nylon, silk or rayon fabric that is very thin and easy to wear in summer months.
More Ideas for Summer Wedding Dresses

Tulle
will add a feathery light touch of grace to any bridal gown.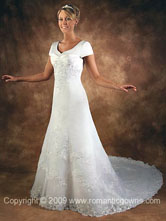 Organza
is a plain weave that can be created by using polyester, nylon or silk which is lightweight and fairly translucent.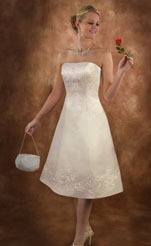 Length of Summer Wedding Dresses
Most brides prefer a long gown for their fairy tale wedding dress; however, if you are getting married in the summer heat, you may want to consider a short wedding dress. Years ago short bridal outfits were only worn by brides getting married on the beach or another informal setting.
Times change, styles change and Priscilla of Boston has recently moved the short informal dress to the top of bridal fashion.
Short bridal dresses are usually less expensive than the traditional long bridal gown due to their simplicity of style and less use of fabric.  A short outfit is more practical as it can be worn again to another special affair. The shortness of length affords the bride the ease of comfort while dancing and she won't feel that she is about to trip as she walks down the aisle.
Another added bonus to purchasing a short bridal dress is that the bride can show off her legs and beautiful bridal shoes.
In a pinch, a short informal outfit can usually be bought off the rack or on-line making it a perfect choice.

If you're not comfortable with a short dress how about considering an elegant tea length ensemble which will have the best of the long and short.
An asymmetrical hem line can give the look of a full length dress with a shorter front that will make walking and dancing a bit easier.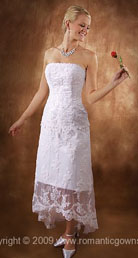 Type of Sleeve for a Unique Summer Wedding Dresses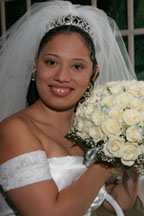 What are your thoughts?  Strapless, short sleeve, spaghetti straps, cap sleeves, off the shoulder or halter styles all offer comfort from the heat and humidity.  If you're having a church ceremony, ask if you need to have your shoulders covered with a wrap.  A wrap could come in handy if the temps drop in the evening.
If you stick to the above guidelines, you will look beautiful and be comfortable.  Remember, it's your wedding and you get to choose.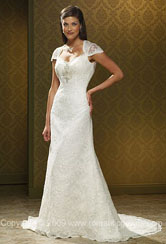 I do hope my ideas for summer wedding dresses have been helpful.  Please click on my other links for more help and information to create your perfect wedding day.
Lots more ideas can be found at our Welcome page.
Unique Wedding Dresses

Casual Beach Outfits

Short Dresses
Pictures are copyrighted and cannot be used without written permission © 2008 - 2015 unique-reception-theme-wedding-ideas.com ® All Rights Reserved
Click Here to read our disclosure regarding affiliate and advertising sponsors.