Your wedding is one of the most exciting times of your life and now you are planning a Spring Extravaganza for your wedding. Let me be the first of many to congratulate you and help you plan your romantic wedding day.


In the northern hemisphere, spring begins around March 20th and ends on June 21st when summer begins.  In the southern hemisphere, spring begins around September 22nd and ends on December 22nd.

Since springtime is a season of rebirth and renewal, you have lots of choices for your spring theme.
Easter Themes – Check to see if your hall and church are already decorated for the holiday and thus saving you lots of money for flowers and other decorations.
Use Easter baskets filled with yellow lilys, daisies, miniture roses, daffodils and tulips for your centerpieces.

If you're having several "little ones" at your wedding, give them some room to play and consider having someone prepare an Easter Egg Hunt for them. You can put candy or coins in the eggs to delight the children when they find the eggs.

Since Cherry Blossoms are in bloom during the spring season, consider cherry blossom themes by incorporating cherries into your theme.

Invites for Spring Wedding Themes
Invite your guests to your wedding celebration by using the above stylish cherry blossom wedding invitations.

Centerpieces for A Spring Theme
Choose large clear bowls and fill them with cherries and cherry blooms which will have the dual advantage of being your centerpiece as well as an additional desert for your guests to eat.

Bridal Dress for Spring Wedding Themes
Choose a light and airy fabric to reflect your spring theme.  Think chiffon, organza, or silk cotton and let a spring breeze wisp your train as you walk down the aisle.



To compliment your spring theme you can decorate your tables with pastel table clothes and use coordinating chair covers.
Some brides like butterflies and incorporate them into their spring themes.

Menu Ideas for Spring Wedding Themes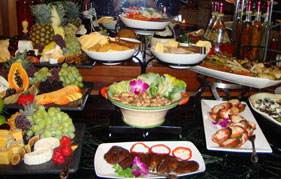 Brides typically choose lighter food for their spring receptions. Consider serving fresh young vegetables such as:  baby carrots, string bean almondine, baby artichokes, asparagus and sweet peas.  The main dish could consist of chicken, veal or a fish dish. You could even serve fresh carrot cake, Yummy!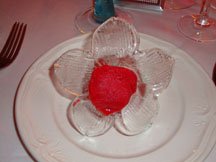 Serving sorbet between the first and second course to "cleanse the pallet" will be a big hit with your guests.  A serving of fruit after the dinner and before the cake is a nice added touch for a spring wedding theme.
People love the romance of weddings, talking with family and friends, dancing and of course, they like to eat.  Let's impress your guests by presenting scrumptious food.
Fresh fruits would also be quite festive. Consider serving strawberries, mangos, apricots, melon or pomegranates.

Wedding Cake

And of course, one of the best parts of the wedding – The Cake.  Who doesn't love cake?
Decorate your cake with the same fresh flowers that you have chosen for your bouquet and have a strawberry or other berry filling.  Yummy!!!
Spring wedding themes are fun to arrange and enjoyable for all.
I'd love to hear about your wedding, please drop me a line and let me know how you are doing.  If you would like any of your pictures posted please send them along.


Now is a great time to explore our Welcome page for great ideas.
Wedding Theme Ideas

Garden Wedding Themes

McDonalds Weddings
Pictures are copyrighted and cannot be used without written permission © 2008 - 2015 unique-reception-theme-wedding-ideas.com ® All Rights Reserved
Click Here to read our disclosure regarding affiliate and advertising sponsors.