Short Wedding Dresses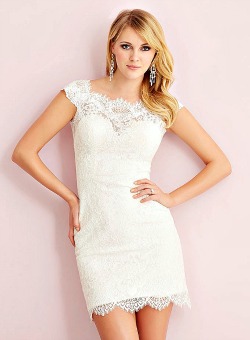 Your looking for short wedding dresses as opposed to a long traditional bridal gown because you have beautiful legs and want to show them off, you're having an informal celebration, you want to be different or you don't want to spend a lot of your budget on your bridal outfit. 

Whatever the reason, it's your day so wear what suits you!
The simple yet elegant dress shown above has a beautiful lace top and lace see through hemline making this mini dress great for a summer wedding or a destination wedding.

The picture below is a simply gorgeous, satin ensemble with just the right amount of beading (on the top and bottom) for an informal party. This dress is available in white and ivory.
Short wedding dresses are coming into vogue and are quite suitable for many types of weddings.
Many celebrities and top models are choosing a short rather than a long dress.
Short Wedding Dresses are Great for Outdoor Ceremonies and Receptions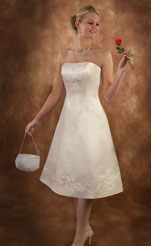 If your reception is taking place on the beach a short bridal ensemble will be quite appropriate and less cumbersome than a traditional bridal gown because the bottom of your dress won't get dragged through the sand or wet if you take your pictures near the ocean.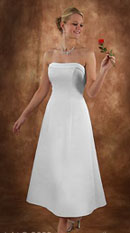 A short outfit is also perfect for a bride who is having a garden wedding . You'll look chic, and won't get grass stains on your dress.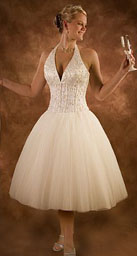 This outfit is made from the luxurious matte duchess bridal satin with a tea-length tulle skirt. It is adorned with cream and clear cut crystal beading.
If your like the pictures on this page check out Best Bridal Prices on the link below.

Destination Weddings
A short gown is ideal for the bride who is traveling to a particular destination for her marriage. With today's restrictions on the number of bags that you can take with you on a flight, a short dress is much easier to pack and you can put all of your accessories, shoes, veil, headpiece, gloves (if you're wearing them), hand bag and garter all in one bag.
Even if you're driving to your destination, one suitcase for your bridal ensemble is more manageable than two.
Wearing a short dress will keep you cooler and you won't have to worry about wrapping your train around your arm.
If you're a budget conscious bride, a short bridal dress can be worn to other functions after your wedding.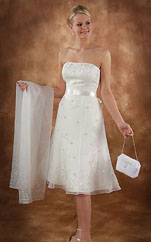 This great looking bridal outfit can be worn over and over again by changing the white ribbon to any color you choose. You can replace the ribbon with a wider sash made from lace giving the dress a totally different look.
I do hope my ideas for short wedding dresses have been helpful to you. If you have any questions about your special day, please use my contact form to ask me for help or check out my other links below.


Take a look at our Introductory page to get more fabulous ideas
Unique Wedding Dresses

Casual Beach Attire

Short Informal Summer Wedding Outfits

Summer Wedding Garb


Pictures are copyrighted and cannot be used without written permission © 2008 - 2015 unique-reception-theme-wedding-ideas.com ® All Rights Reserved
Click Here to read our disclosure regarding affiliate and advertising sponsors.