Want to find the Best Reception Centerpiece Ideas for your Wedding?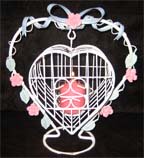 Reception Centerpiece Ideas
Deciding on the "right" centerpiece for your reception can be easy for some brides and difficult for others.
Some brides have talented family members and friends who will create a magnificent table arrangement with little effort and other brides will tell their florist what they want and, presto, it's all done for them.
However, most brides don't have unlimited funds or family and friends that can relieve the bride of this task, so these tips and ideas are for cost conscious brides.

Some catering halls provide perfectly good centerpieces in their wedding package.  Other venues might provide a candle, vase or other table arrangement that you can build upon. Talk to your caterer and determine if they have centerpieces that you can use.  If they do, great! If not, read on.

More Reception Centerpiece Ideas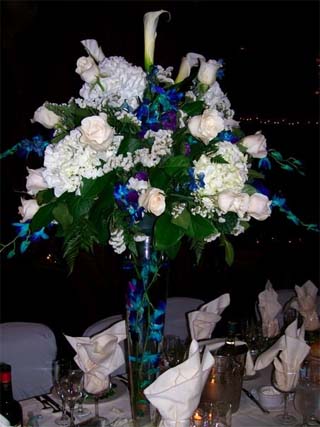 Notice the similarities between the above and the floral arrangement below.  The second centerpiece has tea candles hanging from the flowers which creates a soft effect while the upper centerpiece adds some blue flowers in the arrangement and vase portion of the creation.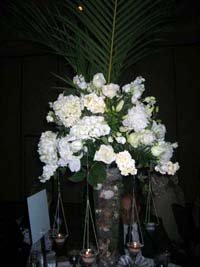 Additional Reception Centerpiece Ideas

Centerpieces are one of the main focal points of your reception; they are a conversation starter and therefore, you want them to make a statement about your personality and individual style.

The first order of business is to decide your budget.  Then get some inspiration by browsing through bridal magazines, books from the library, and the Internet. Look at pictures from local florist's books and talk to some of your recently married friends.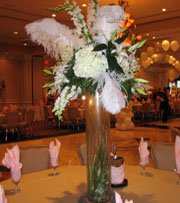 Now that you have some ideas, let's talk about specifics.  Are you looking to make a big splash, or do you want to keep it simple?  Remember, I mentioned that table arrangements are conversation enhancers so whatever you choose, let's keep them low to the table or high up on a pedestal, enabling your guests to view each other while they are conversing.

Next, let's start narrowing your ideas down.  Do you think you might like to have fresh, dried or silk flowers?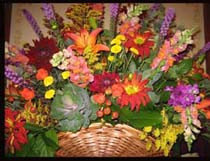 Wedding Reception Centerpiece Ideas for Flowers and Leaves

Candles add a sense of romance and if they are scented, they will enhance the fragrance of your reception hall.

Would you consider edible centerpieces for your guests to nibble on as soon as they enter your reception?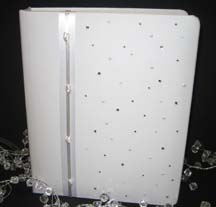 How about purchasing a three ring binder, cover it with fabric that coordinates with your wedding pallet and place some pens on the table and have your guests write in your book.  Not only will you have a wonderful centerpiece but you also will have memories that your guests provided.
The below rose centerpiece was created using a small dish with a floral block to hold the roses in place.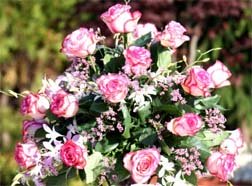 For additional reception centerpiece ideas and tips, browse through my pictures and links below. Hopefully, something will spark your imagination and help you create the perfect table decoration that you have dreamed about.
Wedding Centerpiece Ideas

Unique Wedding Table Arrangements
Wedding Reception Decoration Tips
Pictures are copyrighted and cannot be used without written permission © 2008 - 2015 unique-reception-theme-wedding-ideas.com ® All Rights Reserved
Click Here to read our disclosure regarding affiliate and advertising sponsors.