Old Fashion Wedding Dress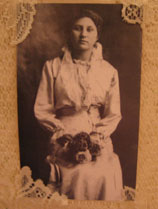 Old Fashion Wedding Dress

So you ask yourself, am I a modern style dresser or am I an old fashion type of dresser?  If the answer is the latter, then an old fashion vintage  dress is for you.


You're also in luck, as old fashion and vintage dresses are becoming more popular and easier to find in bridal stores and in online web sites.
Now you ask yourself, what constitutes an old fashion wedding dress? That depends upon what time period are you interested in?
Would you like a Victorian Era dress that symbolized elegance and grace?  Queen Victoria broke with tradition and wore a white dress and orange blossoms in her hair.  Her dress had big puffy sleeves, was fitted at the waist, and had a hoop skirt with lots of lace.  Dresses of that period were trimmed lavishly with ribbons, lace, embroidery and frills.
If you would like the look of an old fashion wedding dress that's a little more modern, consider a 1920's type bridal dress.  During the "Roaring 20's" brides chose dresses that were more flapper looking with long fringes and their veils flowed from the back of a skull cap that was tight fitting on their head.   The hemlines were a little higher, and the fabrics were a little lighter also.  Many brides of the 1920's chose straight form dress and wore scarves to finish off the "look."

More ideas for an Old Fashion Wedding Dress
The 1950's brought back the hourglass shape with tight waist lines and full skirts.  During WWII designers stopped making dresses with tulle and lace due to the cost of the fabrics.  However, the 1950's brides wanted to emulate the French designers so tulle and lace were in vogue.   Brides of that era wanted to move away from the more traditional ball gown and chose instead a ballerina style dress that was simpler than the ball gowns of earlier years.
OK, so now you are certain you would like to wear an old fashion dress and would like some tips as to where to find your perfect gown.

Find a picture of a dress that you adore and bring the picture to a dressmaker to have the dress custom made for you.
Search through vintage stores and consignment shops.
View ads on e-Bay and Craig's list.
Ask your family members if they have grandma's bridal dress stored in their attic.
Look through on-line stores for old fashioned dresses.
Whatever option you choose, take your time and do your homework before making your decision.
Here are some pictures and suggestions if you would like to purchase your dress through an on line store.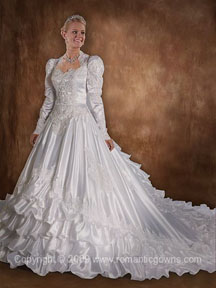 This beautiful "Shelby" gown features a ruffled bottom, sweetheart neckline, puff shoulder sleeves that taper to a tight fitting sleeve.  The gown is made from matte dutchess bridal satin and is adorned with seed pearls and Venice lace.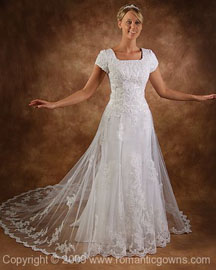 The above A-line gown has two layers of luxurious fabric. The bottom layer is made from the finest matte dutchess bridal satin while the top layer incorporates a soft English net, French cotton and Venice lace adorn this dress with hand sewn, seed pearls. This gown features amazing detail in the bodice and skirt. It also comes with a matching custom lace wrap.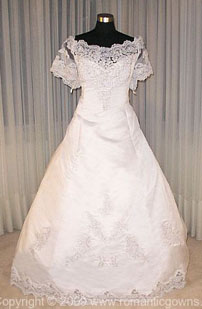 As shown above this gorgeous "1958" gown is made from matte satin and features short sleeves, bateau neckline, zipper back, with an A-line style skirt and semi-cathedral train. It is decorated with seed pearls and Venice lace throughout the dress.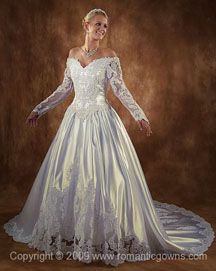 This exquisite gown has a sweetheart, off the shoulder neckline with long, applique sleeves. The train is cathedral length with beautiful beading.

Another Old Fashion Wedding Dress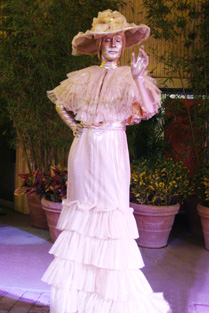 Pictured above is a dress that represents the 1890's. Notice that the bride is wearing a hat rather than a veil and long gloves.  The dress has a cape top, with a wide satin ribbon around the waist and four long ruffles on the bottom.


We're here to help! Try our Introduction page.
Unique Wedding Dresses

Design Your Own Wedding Gown

Fairy Wedding Dresses

Victorian Wedding Gown

Vintage Wedding Theme


Pictures are copyrighted and cannot be used without written permission © 2008 - 2015 unique-reception-theme-wedding-ideas.com ® All Rights Reserved
Click Here to read our disclosure regarding affiliate and advertising sponsors.