Victorian Wedding Dresses
Victorian Wedding Dresses

We all love romance and dreamy thoughts of feeling like a princess wearing a Victorian gown.  So what did a Victorian dress look like?

Victorian bridal gowns were made so that the bride appeared to have an hourglass shape.  This look was achieved by wearing a very tight corset with the dress having a fitted bodice, small waist and full skirt with many petticoats or as we call them today, crinolines.  The undergarment could have a hooped skirt containing a wire band to expand the skirt.
The Victorian brides wore layers, upon layers of fabric which gave them a fuller and more round shape.  Their veils were usually long, to the floor, with lots of lace and sometimes they had a floral pattern. The veil could also be made of sheer cotton and the bride wore roses or other flowers attached to her veil.
Another tradition of the time was for the bride to wear orange blossoms in her hair which symbolized purity and fertility. 
Depending on your wealth, Victorian wedding dresses were made of tulle, lace, silk, linen, gauze or cashmere with lots of layers giving the dress a very full look. 
Prior to Queen Victoria's wedding, brides were married in any color that suited them.  This was due mostly to the bride's budget limitations.  Wearing a colored bridal dress could be worn many times over.  However, white has been the traditional color of bridal gowns since 1840, when Queen Victoria wore a white gown for her marriage to Albert of Saxe-Coburg.
If you want an authentic looking Victorian dress, you can go through some magazines, books, look on the internet and take a picture of the gown that you have chosen to a dressmaker and see if your dream bridal dress can be created. If not, take a look at some of the dresses that I have chosen below and see if they will work for you.
More Pictures and Ideas for Victorian Wedding Dresses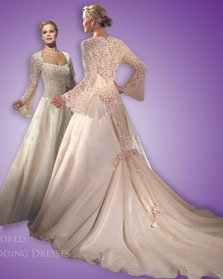 This dress has a low scoop neckline with bell sleeves.  The buttons up the back with see through lace reminds me of the Victorian Era.  The train is unusual in that it has floral embellishments.  Can you see yourself in this dress with satin ballerina slippers?

This is a modern day bridal gown with all the elements of a Victorian bridal dress.  It is very fitted at the waist and the skirt is very puffy with lots of embroidery on the bodice, down the side and on the hemline.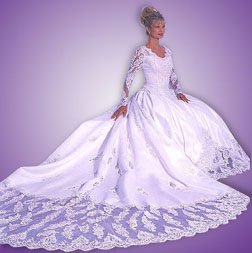 This dress could also work as a romantic Victorian Era bridal gown.  It has long lace sleeves with a fitted waist and a very full skirt with a long, lace decorated front and train.
The above dresses can be ordered from Tailored Wedding Dresses.
 
In addition to wearing a Victorian wedding dress you may want to have a Victorian cake topper. 
The romance of a Victorian theme will set the stage for your marriage and I do hope my Victorian wedding dresses tips and ideas helps you to accomplish your goal.

Unique Wedding Dresses

Corset Bridal Gowns

Old Fashion Attire

Vintage Themes



Pictures are copyrighted and cannot be used without written permission © 2008 - 2015 unique-reception-theme-wedding-ideas.com ® All Rights Reserved
Click Here to read our disclosure regarding affiliate and advertising sponsors.