Hairstyles and Makeup for Wedding Day ~ How to Look Your Absolute Best!
Hairstyles and Makeup for Wedding Day

Most brides dream of their wedding day from the time they are a little girl. So it is natural that they want to look their absolute best and dazzle their husband and guests with a perfect hairstyle and make up that helps make them absolutely gorgeous.

Hiring a professional hair stylist and makeup artist takes a lot of pressure off the bride and her attendants. With this in mind, I asked Elizabeth Jones, a licensed cosmetologist and professional hairstylist to give us some tips and ideas to create the perfect hairstyles and makeup for wedding day look.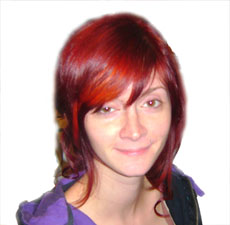 This bride has naturally straight fine hair and was looking for a voluminous sexy, "side style."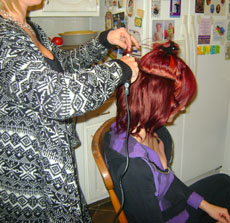 To create the above style we washed her hair the night before with shampoo, did not use conditioner and blew dry her hair with a big round brush to give her hair lots of body. The next morning we began the updo process by starting at the nape, adding curls with a clamp-less iron.
For every row that was curled, a row of clip in extensions were worked into her hair giving her fullness and a natural look. (Extensions were also added to the back and sides.) Her hair was then swept to the side and pinned from the nape to just above the occipital bone. Then her hair was draped over the pins to hide them.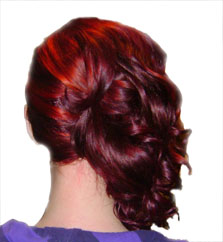 And now - the makeup part of the Hairstyles and Makeup for Wedding Day
As for this bride's makeup, she wanted a dramatic smoky eye with a little color on her lips. We started out with her eyes using a warm pallet of colors to accent her gorgeous red hair. A primer was first applied to the lid, followed by a light brown shade. We worked the light brown from the middle of the eye to the corner. Next a bronze color was applied to the crease of the eyelid and a shimmery cream color was added right under the brow and in the inner corners.
Lastly, a black color was blended in the crease to give the eye that smoky look. Liquid eyeliner makeup was used to line the top lid and false eyelashes were applied. The shadow was then used under the eye as an eyeliner in the same fashion. Lighter in the inner corner, bronze in the middle and black in the outer corner. Then, a black liner was used.
A liquid foundation was applied to her face along with a peach colored blush which was generously applied. And finally, we spread a 24 hour lip stain to her lips and used a bright cranberry color lip gloss on top of the lip stain.
See picture on the top of this page for the beautiful, dramatic, sexy, happy bride.

If you're looking for perfection in your wedding day hairstyle and makeup, contact Elizabeth Jones from The Updo Guru through her web site, at www.theupdoguru.com or calling her directly at (732) 904-0938.
Hopefully this page entitled, Hairstyles and Makeup for Wedding Day has given you some inspiration and ideas to create that beautiful, sensational look that you desire on the most important day of your life.
If you're looking for hair accessories click below.

Want to make some fabulous thoughts come to fruition? View my home page.

Wedding Day Hairstyles

African American Wedding Hairstyles

Updo Wedding Hairstyles

Wedding Hairstyles for Curly Hair



Pictures are copyrighted and cannot be used without written permission © 2008 - 2015 unique-reception-theme-wedding-ideas.com ® All Rights Reserved
Click Here to read our disclosure regarding affiliate and advertising sponsors.