Guidelines for Tipping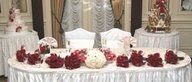 Reception Decorations
Need Guidelines for Tipping on your wedding day?

Your wedding day is fast approaching and you're confused about who should receive a gratuity and how much you should tip each vendor.
Giving gratuities on your wedding day is a personal matter.  Tipping is an expression of gratitude for those vendors and service people who have assisted you in your wedding planning and have met and gone above your expectations. 
Some vendors include a gratuity in their contract.  If so, you accept the stated amount when you sign the contract.  If the contract does not specify a tip it's up to you to decide who and how much you will tip.
Guidelines for Tipping – Specific Vendors
Limousine Driver
Your limo driver usually wears a tuxedo and has a stocked bar of soft drinks and a bottle of champagne for you and your bridal party. Their responsibilities include:
Getting you to your ceremony and reception place on time and in a safe manner.
Placing your reception party in the proper order to begin the procession down the aisle and will keep the procession going at the right pace.
Fluff your dress and roll out the runner as you are about to walk down the aisle.
The customary tip for the above services is between 15% and 20%.
Florist and Bakers
Typically the above own their businesses and it isn't necessary to give an additional tip. However, you can give a $25 tip to the person who drops the flowers off at the bride's house. The same can be given to the person who brings the cake to the reception.
Guidelines for Tipping Photographers
If the photographer goes out of his/her way or stays a bit later than the time specified in the contract, a tip of 15% to 20% is acceptable.
Musicians
A $20 to $50 tip to each musician depending upon your satisfaction is recommended.
If you hire a DJ directly, without using an agency, tipping is not required but a $50 to 100 tip would be acceptable. If you hired the DJ from an agency and a tip is not specified in the contract a 15% to 20% gratuity would be greatly appreciated.
Caterer/Banquet Manager
A 20% tip is usually included in the contract, however if the manager has gone over and above to please you and your guests an additional $1.00 to $2.00 per guest is reasonable.
Guidelines for Tipping the Wait Staff
15% to 20% is almost always included in the contract. Some catering halls do not pass this service fee along to the wait staff so a $20 tip to each waiter or waitress is recommended.
Bartenders
20% is a customary tip to the bartender if he or she is not accepting tips from guests.
Restroom and Coat Check Personnel
If the restroom and coat check employees are not accepting gratuities from your guests then a $0.50 - $1.00 per guest tip is acceptable.
Guidelines for Tipping Parking Attendants
As above, if the valets are not accepting gratuities from the guests a $2.00 - $3.00 per car is suggested.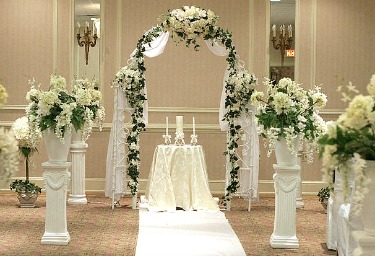 Officiates
A priest, rabbi, minister and imam may or may not accept a gratuity along with their regular donation. If they do, a $75 to $100 tip is recommended.
Judges, clerks and other civil officiates typically are not permitted to accept a gratuity.
Ceremony Staff
A $40 to $75 tip is suggested for musicians and organists. Alter serves, sextons and other ceremony staff should receive a gratuity of $15 to $25.
Guidelines for Tipping Wedding Planners/Coordinators
It is difficult to list all the services a wedding planner carries out. He/she assists with all of the pre planning and wedding day preparations. They often act as a producer, designer, touch-up makeup artist and beauty stylist. They can also act as go between when there are difficult situations between the bride, her bridesmaids, family members and friends. A wedding planner can also be instrumental in helping with the honeymoon planning and act as a therapist when the bride is stressed out.
Wedding planners typically own their own business and a tip is not required, however if your wedding planner has passed along discounts from vendors or has given exceptional service, then a 10% to 15% tip would show your appreciation in a positive manner.
Stylists and Makeup Artists
I recommend giving the standard 20% for your stylist and makeup artist.
It is important to decide ahead of time who and how much you will tip each service person. I strongly suggest you place the tip (check) in an envelop and put the person's name on each envelop. Give the envelopes to your best man for distribution.
Tipping can be confusing so if you follow my guidelines for tipping, you won't leave anyone out and will tip each person appropriately.
More planning ideas can be found here.

Pictures are copyrighted and cannot be used without written permission © 2008 - 2015 unique-reception-theme-wedding-ideas.com ® All Rights Reserved
Click Here to read our disclosure regarding affiliate and advertising sponsors.