Fall Theme Wedding Cakes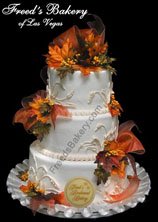 Fall Theme Wedding Cakes


The fall or autumn, marks the transition from the hot summer months to the cold winter season, making it a pleasant time of year to get married.

The days are a bit shorter than in the summertime but Mother Nature gives us a beautiful backdrop of color with the leaves turning bright red, gold, orange and maroon.

Fall temperatures are usually moderate and most of your guests will have returned from their vacation making your wedding something to look forward to.
You've done most of your nuptial planning and now you are looking for creative ideas for your autumn cake, so read on.
More ideas for your fall theme wedding cakes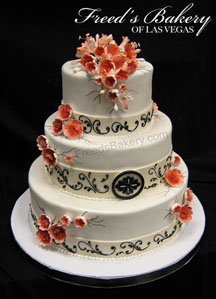 Bridal cakes come in all sizes and shapes.  You can choose a flat sheet cake, a two, three, four and so on tiered cake.  Some brides prefer round to square shaped cakes.  While unconventional brides will decide upon a hexagon or other shape while other brides choose to mix and match their shapes.

Pricing


Wedding cakes are usually priced according to the number of pieces that you will be serving, keep in mind that the more decorative and intricate the design of your cake, the higher the cost.

Color Scheme

You certainly have lots of beautiful vibrant colors to choose from when picking your accent colors on your wedding cake.  Along with the colors mentioned above you can use browns, silver, copper, bronze, deep purples and burgundy.
Not only do you want your cake to be a visual masterpiece, you also want your confectioners delight to be tasty.

Fillings for Fall Theme Wedding Cakes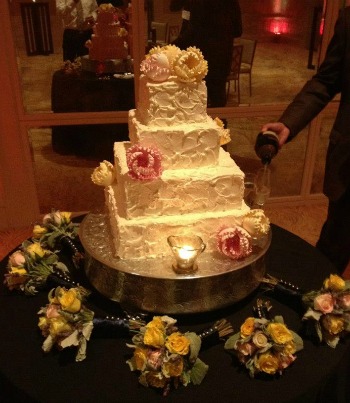 There are a wide variety of fillings to choose from that will "fit in" nicely with your fall motif.  Consider, pumpkin, carrot or kahlua fudge as your filling.

Your Particular Style

Every couple is individual and will want their cake to be representative of their personality.  Look through magazines and surf the web for ideas to create a custom wedding cake that is just "right" for you.

Pictures of Fall Theme Wedding Cakes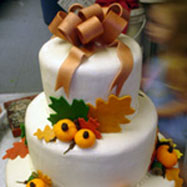 The above fondant bridal cake was created by Piece O' Cake in Shrewsbury, NJ using the natural elements of oak and maple leaves and small pumpkins to conjure up images of an autumn scene. Using the orange bow as the cake topper pulls the whole theme together creating a beautiful fall wedding cake.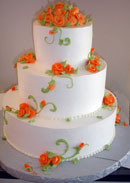 This cake, also created by Piece O' Cake in Shrewsbury, NJ has vibrant orange florets with green swirls which can be changed to brown swirls if you prefer. 
Your fall wedding theme cakes can be as simple or elaborate as your taste and budget allow.  Please check out my other ideas for autumn and fall weddings.

Looking for additional fabulous tips



Wedding Cake Ideas

 Cake Designs
Pictures are copyrighted and cannot be used without written permission © 2008 - 2015 unique-reception-theme-wedding-ideas.com ® All Rights Reserved
Click Here to read our disclosure regarding affiliate and advertising sponsors.