Fairy Wedding Dresses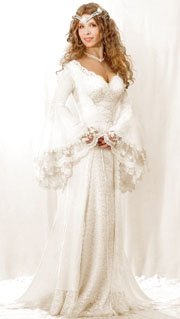 What are fairy wedding dresses? Ask fifty different brides and you'll probably get fifty different answers.
A common thread that you will hear is princesses, Cinderella, natural elegance or magical little pixies that will sprinkle a bride and groom with love dust.
So why not feel like a princess on your special day and wear a romantic fairy tale bridal gown?
Choosing your dream dress is fun but can be stressful, as there are countless gowns choose from, so it is important to narrow down the selection and choose the dress style that will flatter your figure.
Fairy Wedding Dresses to Delight Any Bride
This Star Jeweled Gown is an exceptional gown which is available from
Faeriebrides.wedding-gowns-star-jewelled-gown
in four variations which are very similar. The main difference is the Exquisite style has a long train with a French ruffle around it. The Blue Exquisite shows the gown with a touch of color on the breasts and front of the gown. The Enchantress variation shows the gown entirely in color. It is available in many colors with or without lace on the breasts and front of the gown. You will certainly feel like a magical fairy princess, in whichever dress you choose.
What Makes a Fairy Wedding Gown Unique?

Your outfit doesn't have to be a Disney inspired Cinderella, Snow White or Sleeping Beauty silhouette style.

Capture your personality and distinct grace by choosing a dress with a full skirt made from layers of fabric.  Fairy tale wedding gowns are usually fitted in the waist to accentuate the feminine figure.  The neckline can be strapless, sweetheart or halter. 
Lots of beading and crystals will add a touch of elegance.
A long train will complete the princess look.

Accessories

A cut crystal or pearl tiara with a long flowing veil will add to your Cinderella outfit.
Some brides are choosing to wear a wreath of fresh flowers in their hair with long streamers to compliment their fairy tale theme.
Other brides may wear a beaded band around their forehead.

Gloves, either long or short are an important accessory to completing your bridal outfit.

They might be a bit cumbersome but having wings sewn into your bridal gown would create a unique fairy image.
If you love the idea of wearing a fairy gown, for it!


I do hope my tips and ideas on fairy wedding dresses have inspired and helped you to finding your perfect bridal gown.

More great ideas can be found at our Introduction page.
Unique Wedding Dresses
 
Design Your Own Bridal Attire
Pictures are copyrighted and cannot be used without written permission © 2008 - 2015 unique-reception-theme-wedding-ideas.com ® All Rights Reserved
Click Here to read our disclosure regarding affiliate and advertising sponsors.