Engraved Wedding Gifts – Personalized Wedding Presents
Great Ideas for Engraved Wedding Gifts – Personalized Bridal Presents
We all love receiving special gifts that were created just for us.
Personalized presents lets the receiver know that the gift giver put a lot of time and thought into designing and purchasing a gift that is just right for them.
If you have a monogrammed article of clothing, it can't get mixed up with someone elses'.
A personalized gift will look unique in your home and knowing that no one else has the same item makes it even more special.
The above engraved glasses were created by Handcrafted Gifts by Becca. www.bybecca.com.  This is a unique boutique where you can find hand-painted accents and presents for your bridal party, parents and friends.  Becca's elegant glassware, vases, jewelry and business card boxes are one of a kind and will surely please the person you are presenting the gift to. She enjoys working with brides because weddings are happy times and she feels privileged to be able to share in the bride's happiness.

Other Personalized Engraved Wedding Gifts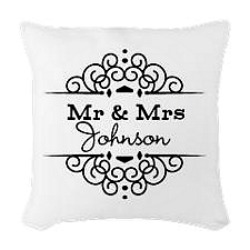 How about an engraved pillow for the bride and groom. You can choose to have one created as above or you can substitute their first names.

I was recently at a reception and one of the guests made a quilt for the bride and groom.  It was just amazing!  The creator took pictures of the couple as they were growing up as well as their engagement pictures and had the photos imprinted on fabric.  She then sewed the pieces together and the result was a fabulous quilt for the happy couple's couch or bed.  It was a work of love and the bride and groom were thrilled.
Consider purchasing tee shirts, sweatshirts or jackets and have the bride and groom's first names monogrammed on the front and back.  

How About this as Another Engraved Wedding Gift Idea?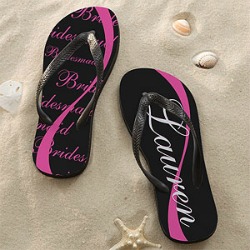 Since your bridesmaid's love to dance and their shoes will hurt their feet after a few dances, consider personalizing flip-flops in the color of their dresses.  Won't that make them feel special!
Whenever you are engraving or personalizing a gift make certain  that it is exactly what you want and the spelling is correct, because once it's made there is no recourse for returning the item.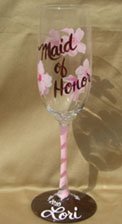 As you can see, there are numerous engraved wedding gifts and personalized presents and ideas that will suit every bride's taste and budget.  Be creative and let your imagination roam free.

For more tips please go to my introduction page.

Unique Wedding Gift Ideas

Online Wedding Registry

Target Wedding Gift Registry

Engraved Presents

Pictures are copyrighted and cannot be used without written permission © 2008 - 2015 unique-reception-theme-wedding-ideas.com ® All Rights Reserved
Click Here to read our disclosure regarding affiliate and advertising sponsors.