Corset Wedding Dresses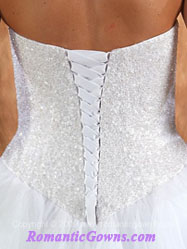 Corset Wedding Dresses - Are They Right For You?

Love is in the air, you're dreaming of walking down the aisle to your wonderful husband and you're wondering what type of wedding gown you should choose. You want a bridal dress that will be comfortable, stylish and make you look like a million bucks.
The earliest corsets were called "payre of bodies" or "stays."  They flattened the bust and pushed the breasts upward giving emphasis on the bust and small waistline. The corset turned the upper body into a cone or cylinder shape.  Corsets began appearing in the middle of the 16th century and were worn by most women.

Like everything else, styles come and go and the corset gown which was very fashionable in the 18th century is making a comeback as a  traditional style wedding dress as well as in Gothic and medieval bridal themes.
The unique dress below is made of bridal matte satin and is adorned with clear cut crystals, champagne beads and matching ribbon. The front of the gown has a sweetheart neckline with the same crystals and beading.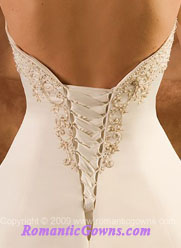 Reasons for Choosing a Corset Wedding Dresses
A corset back gown is perfect for a pregnant bride who will be gaining weight and doesn't want to worry about last minute alterations.
If you are getting married in an old castle or having a medieval, gothic or Celtic theme a corset back wedding dress will be an added layer of style to your theme.
Since a corset style dress can be laced up very tightly, they have a tendency to make you appear thinner than you actually are. They also accentuate your waist and bust line giving you an hourglass figure. (When fastening up the corset, be certain not to make it too tight, as you don't want to be uncomfortable on your wedding day.)
Most corset wedding dresses have many tiny buttons to fasten, while a corset type dress can be fastened by just pulling the ribbon as tight or lose as you desire. The traditional little buttons can dig into your back while leaning back in a chair. You will have the softness of the ribbon rather than the tiny buttons pressing into your back.
How to Find a Corset Wedding Dress

Do some research by looking through bridal magazines, talk to your family and friends, visit museums, art galleries, bridal shops, department stores and of course, the internet.
Visit a consignment shop and see what they have for sale.
If you can afford the luxury of having your dress hand made exclusively for you, your dress will fit perfectly and be a "one of a kind." If this is the route you are choosing, make certain the seamstress is experienced and don't be talked into hiring someone who only sews for themselves or does dressmaking on the side.

The above gown is made from organza with the bustle starting from the beaded waistline creating a carefree effect.


The above sleeveless organza gown with soft vertical gathers is trimmed under the bust with a delicate cluster of crystals.  The dress has an asymmetric midriff flowing into a side bouffant skirt panel with rosette accents.

Your bridal dress will probably be the most expensive item of clothing you ever purchase; so take your time while looking at the many options for corset wedding dresses.

I'd enjoy hearing from you, please use the contact button on my navigation bar and ask me any questions you may have.


Take a gander at our introduction page for more suggestions.




Unique Wedding Dresses

Old Fashion Bridal Gowns


Tips for On-Line Purchasing of Bridal Gowns

Pictures are copyrighted and cannot be used without written permission © 2008 - 2015 unique-reception-theme-wedding-ideas.com ® All Rights Reserved

Click Here to read our disclosure regarding affiliate and advertising sponsors.