Colored Wedding Dresses for the Bride Who Wants to be Different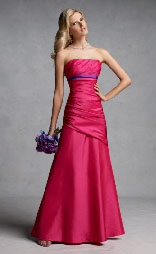 Colored Wedding Dresses
Every bride should wear the wedding dress of her dreams, look gorgeous, and feel beautiful and radiant.
You've been shopping and wearing dresses since you were a little girl, so you know what color and style looks best on you and how you want to look on your wedding day. If you have your heart set on a colored bridal gown, go for it. Don't be talked into wearing a traditional white ensemble if you really want to be daring and different. Today's brides are ditching the traditions of yesteryear and even wearing black for their nuptials. So if black is your favorite color and looks good on you, find yourself a beautiful black gown and wear it, as Sarah Jessica Parker did!

Aqua colored wedding dresses are stunning!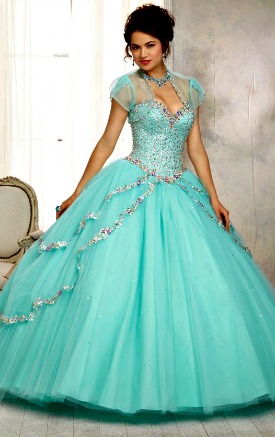 This gorgeous A line aqua dress with jewel beads outlining the sweetheart neckline, waist and skirt has a matching bolero.
When choosing wedding dresses with color, you should take the season of the year that you will be married into consideration. Pastels and light colors look best in the spring and summer while deep, intense colors look best in the fall and winter. No surprise there!!!
Colored gowns can be less expensive than a conventional white gown because you can purchase your gown "off the rack" at a department store, outlet or chain store. You can go to a shop that sells prom and bridesmaids dresses and choose any dress that is appealing to you.
More Ideas for Colored Wedding Dresses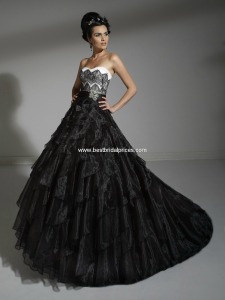 Discover the elegance in this enchanting Black and White wedding dress. This strapless ballroom gown has a white top with black lace overlay and a full black bottom starting about three inches below the bust.
These colored wedding dresses are sensational!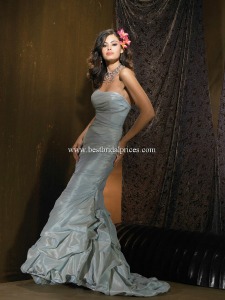 This wonderfully fashionable grey, strapless dress has gathering and a train that's about two feet long.  It will be easy to pick up the train and have a fun night of dancing at your wedding.  This dress can be worn over and over again.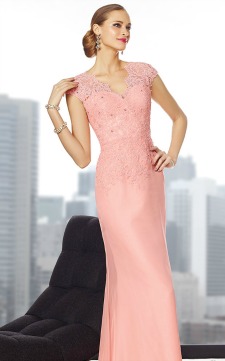 Colored Wedding Dresses for the sophisticated bride

This pink dress is one of my favorite wedding gowns.  It's sophisticated, elegant, and shows off your shape.  It's cap sleeve and V neckline can be worn in all four seasons. The detail on the top and mid sections of the dress are stunning.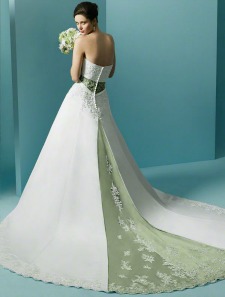 Now who says you can't have a white dress with a splash of color? This fabulous dress works for the bride who wants to be traditional and wear white but also desires to be a bit different.  The green sash and back panel are breathtaking!

If you're having difficulty finding the perfect gown try looking at prom dresses.  Many prom dresses are elegant enough to double as a wedding gown.

Whatever color you choose, remember to have your shoes, bag and other accessories match. If you aren't able to find the right color shoes or purse, have them dyed at a shoe maker or purchase a shoe dye kit and do it yourself. (If you're doing it yourself remember to wear gloves so you don't stain your hands.) Just make certain you give yourself lots of time, just in case you're not satisfied with the way the color turned out.
Most guests don't want to compete with the bride and will not wear white. If you prefer to be the only person in a particular color, be certain to let your guests know which color you have chosen so they don't show up in the same color that you are wearing.
The dresses on this page are available at Best Bridal Dresses.  Click on the link below and browse their website for dresses and accessories.

Planning is a key element. When you have finished reading this page, check out my Unique Wedding Dresses and other links on the bottom of this page for more ideas and suggestions.
I do hope this colored wedding dresses page has helped you. If you have any concerns please contact me and I will gladly answer any questions you may have.
Let's review some great ideas. Peruse my Welcome page.

Unique Wedding Dresses

Black Wedding Gowns
Red Wedding Attire

Silver Gowns

Wedding Gowns With Color


Pictures are copyrighted and cannot be used without written permission © 2008 - 2015 unique-reception-theme-wedding-ideas.com ® All Rights Reserved
Click Here to read our disclosure regarding affiliate and advertising sponsors.