Christmas Wedding Gowns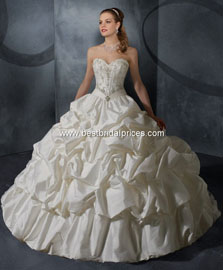 Christmas Wedding Gowns


Since you have arrived on my Christmas gowns page I'm going to take an educated guess and say that you, or someone close to you is getting married during the Christmas Season.  So, am I right?
Christmas is a wonderful time of year to get married; not only are you happily in love but the spirit of Christmas seems to bring out the best in everyone.  In general people appear more generous and kind.


So now that all this love is in the air, let's talk about Christmas dresses.

Style and Fabric

Depending on how formal your affair will be, you may want to choose a winter fabric such as velvet, satin, brocade or taffeta. They're stunning and will keep you a little warmer than silk, georgette or chiffon.
A dress with sparkly crystals, sequins and beads will remind your guests of the snowy season and the bling will dazzle your guests.
A pouffy ruffled gown will call to mind mounds of snow and snow drifts. Ruffles and pouf truly seem like a Christmas extravaganza. Leave them breathless with the above lavish crystal top and V waist dress.
A high neck and sleeves will definitely keep you warmer than a strapless gown. However, if you have your heart set on a strapless would you consider a dress with a bolero with faux fur?
Colors for Christmas Wedding Gowns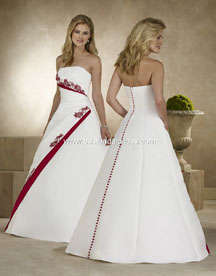 Since your church and hall may already be decorated in the traditional reds and greens it seems that a red, green, gold or silver theme is a logical choice and will make life a little simpler.
Your dress can be the traditional white with a red sash, boarder or belt. A beautiful red sash will compliment your gown and can coordinate with your bridesmaid's dresses and your groom's tie and cumber bun. If red is not your color how about hunter green?

If you prefer an all white gown be daring and wear a red velvet cape.

If you're a bold bride and want to stand out, consider a red dress.
More Ideas for Christmas Wedding Gowns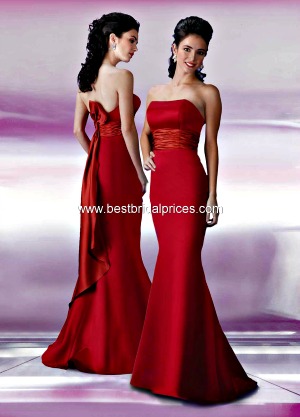 The above dress can be worn as your bridal dress and to any formal function that you may attend after your marriage.

Completing your ensemble

Carrying a bouquet of red roses with white baby's breath and a few crystals or a white muff will complete your holiday look.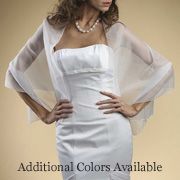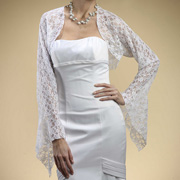 Don't forget, additional accessories that will keep you warm when you're going from your wedding car to your ceremony or reception include the below wrap and muff.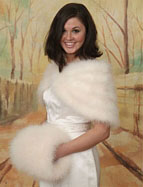 A Christmas wedding warms the heart and choosing Christmas wedding gowns that take their cue from Mother Nature will dazzle your hubby and guests.
Some pictures on this page can be found at Best Bridal Prices.  Check out the above link to view beautiful dresses.

For more thoughts and tips, go to our Welcome page.
Unique Wedding Dresses

Christmas Wedding Dresses

Red Wedding Outfits

Winter Wedding Ideas


Pictures are copyrighted and cannot be used without written permission © 2008 - 2015 unique-reception-theme-wedding-ideas.com ® All Rights Reserved
Click Here to read our disclosure regarding affiliate and advertising sponsors.