Need Cheap Honeymoon Ideas and Packages?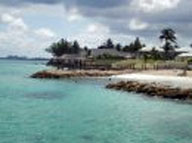 Get some great tips for finding Cheap Honeymoon Ideas and Packages

So your wedding was a bit more expensive than you thought and now you're looking for inexpensive honeymoon ideas and packages. Well you've come to the right place.
Cheap, doesn't mean cheesy or uninviting; it just means that you will have to put in a little more effort and research to find and inexpensive, romantic honeymoon.

Cruises

Cheap Honeymoon Ideas and Packages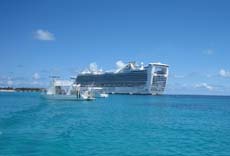 Cruise lines tend to set their prices and ports of call around 1 to 1 ½ years in advance. It is customary to find the best deals as soon as the cruise line announces their cruise schedule, or savings can also be realized by booking at the last minute. If you have the stomach to wait, you can get a really good deal within 30 days of sailing, however, I recommend booking early, as you will be very busy the last month before your wedding.
Cruises and all inclusive vacation resorts are similar in that all of your food and entertainment are included in the price. The only additional costs are: tips, alcoholic beverages and any excursions that you may take.
Most cruises depart from major port cities; if you live near the departure city you will avoid the expense of traveling to the ship.

Other cheap honeymoon ideas include: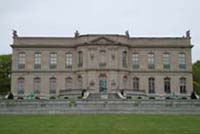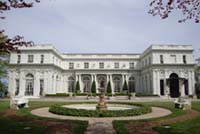 Shorten the number of days that you will be away for your honeymoon and take a trip close to home. For example, if you live in the northeast, an inexpensive vacation would be to visit the mansions in Newport, Rhode Island.  The preservation society sells tickets to 5 mansions for $30.  Most of the mansions have an audio tour and you can stay in the mansion and walk the grounds for as long as you like.
You can tour the "Cliff Walk" and enjoy the view of the houses from the back and listen to the waves breaking on the shoreline.
There is also a lovely boat trip that you can take and see the mansions from the water. 
If you have the time, you can take a day trip to Martha's Vineyard and just stroll around the town.


Other Thoughts for Cheap Honeymoon Ideas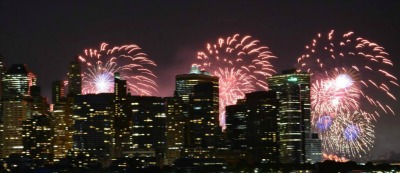 Enjoy a beautiful show of free items that cities and towns offer.  The above is a picture of fireworks in NYC.

If you and your hubby like to camp, rent an RV or pitch a tent in your favorite park.
Ask friends and family members if they have a summer home or winter place that you may stay at for free or at a greatly reduced rental fee.
Consider a home exchange where you will be staying in someone else's home while they stay in yours.
You can defray the cost of your honeymoon by signing up for a honeymoon gift registry and have most, if not your entire vacation paid for by your friends and family.
Attend several bridal shows and fill out the entry form to win a free honeymoon. The chances are remote that you will win, but who knows, the winner may be you!
Travel during off-season when the prices are less expensive and the hotels, restaurants and airlines run sales.
Use your frequent flyer miles for your plane tickets and hotel reservations.
If you belong to any travel club, or group that offers discounts, let the reservationist know when you are booking your vacation.
Sign up with as many budget/cheap travel organizations as possible and take advantage of their promotional prices.
You can become part of the WWOOF experience. WWOOF is an international movement that helps people share more sustainable ways of living. In return for volunteering a few hours a day WWOOF offers food, accommodations and opportunities to learn about organic lifestyles.
Scour the Internet, magazines and newspapers to find travel deals for hotels, airfares and cheap car rentals. Take advantage of money saving coupons for restaurants and area attractions.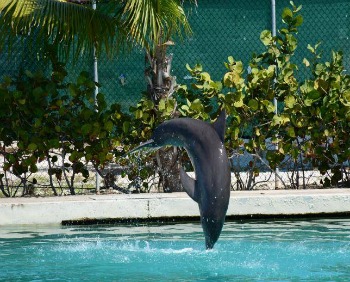 I hope that after reading my cheap honeymoon ideas, you realize that with a little planning and research you can have your romantic, fun filled honeymoon of your dreams.

Take a look at some more great ideas.
Top Honeymoon Locations

Cheap Honeymoon Packages

Cheap Wedding Ideas

Top 10 Honeymoon Destinations
Pictures are copyrighted and cannot be used without written permission © 2008 - 2015 unique-reception-theme-wedding-ideas.com ® All Rights Reserved
Click Here to read our disclosure regarding affiliate and advertising sponsors.