Top 10 Honeymoon Destinations for Newlyweds
Want to know what most couples are saying about the Top 10 Honeymoon Destinations and locations?
You've been planning your wedding for months and it seems that the planning phase has practically taken over your life. Now you want to focus your attention on your honeymoon.
So where do you begin your life together as a couple and have a romantic interlude? Choose your destination on what you like to do, how you enjoy spending your time and what your budget will bear.
Trends come and go so it helps to know where other couples are spending their vacation. Researching honeymoon hot spots and destinations should be fun and not  a chore.
Top 10 Honeymoon Destinations and Locations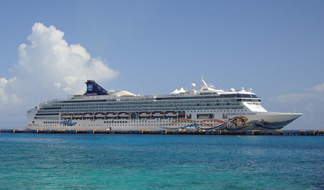 Hawaii

Not surprisingly, Hawaii is still  high on the list of top destination spots for newlyweds.  It's clear blue water; fabulous sunsets, friendly people and natural beauty will renew and enhance your love for each other.

The easiest way to visit five Hawaiian Islands is by cruising with one of the large cruise ships. If cruising is not your thing, you can island hop by taking a puddle jumper from island to island.

Oahu has a mix of amenities.
Great entertainment
Pineapple Plantations
Fabulous surfing and snorkeling, especially on the North Shore
Shopping
Visit the memorial and museum at Pearl Harbor
Experience the awesome view of Oahu from the top of Diamond Head
It has great restaurants and a diversity of cuisine
Go to a Luau
Kaui is the oldest and northernmost island in the chain.
Take a boat ride to enjoy the steep cliffs of the Napali Coast.
Visit the Waimea Canyon which is the "Grand Canyon of the Pacific."
Walk and explore the beaches of the Coconut Coast.
Molokai has preserved its connection to the past with almost half of its population being native Hawaiians.
Learn about Father Damien's settlement at Kalaupapa.
Halawa Valley is known for its verdant flora.
Lanai is a beautiful island without one single traffic light and is known for its privacy and luxury.
See the rock formations at "The Garden of the Gods." in Keahiakawelo.
Play golf at one of Lanai's courses.
The Big Island is larger than all the other Hawaiian island combined.
Visit the magnificent rainforests, waterfalls, and botanical gardens in Hilo.
The world's most active volcano is at Kilauea National Park.
Maui is home to what some say are the best beaches in the world.
View the Humpback whales who migrate to Maui every winter.
See the sunrise at the top of the Haleakala Crater.
Rent a car and drive the long winding road to Hana and enjoy the spectacular scenery along the way.
Have a morning adventure by zip lining through the forest.
Mexico
There are several hidden treasures waiting to be explored in Mexico which makes it one of the top 10 honeymoon destinations.
Discover the ancient Aztec pyramids and past civilizations, play golf or simply lie on one of Mexico's pristine beaches.
Acapulco is experiencing a renewed life as an upscale retreat. Its sparkling bay rises to palm-covered mountains and is a perfect spot to watch the sunset.
Cancun offers crystalline turquoise waters and endless entertainment options. The Mayan temples and thrilling water parks make Cancun a city where you can enjoy a beach vacation along with a cultural experience.
Cabo San Lucas is a party town while San Jose del Cabo is quiet and quaint. Some of the world's best golf courses can be found nearby.
Cozumel is one of the top diving destinations in the Western Hemisphere delighting the divers with brilliant tropical fish and picture perfect coral.
Other Top 10 Honeymoon Destinations
Italy ranks high with honeymooners. Please see my link on the bottom of this page entitled "Italian Honeymoons" for a complete guide to beautiful Italy.
Disney World in Florida also is included in the top 10 honeymoon destinations because it is for the young at heart who want to experience fairy tales, rides, water parks and meet their favorite cartoon characters from their childhood.
Las Vegas ranks among the top 10 honeymoon spots because it has something for everyone; gambling, shopping, posh hotels and top restaurants. A short car ride away is the Hoover Dam. You can also take a day excursion to visit the spectacular Grand Canyon.
The Caribbean Islands of Aruba, Curacao, Puerto Rico, St. Thomas, Barbados, St. John and Grand Turks and Caicos have beautiful beaches and good shopping which places them among the top 10 vacation spots.
Alaska is very popular for honeymooners who like to cruise and see the glaciers, wild animals and of course, "gold digging" helps place Alaska as one of the top 10 honeymoon destinations.
Bermuda with its pink, powdery sand and crystal clear water makes Bermuda a fabulous honeymoon spot. What's nicer than lounging on a beach during the day and then hitting a nightclub in the evening? Bermuda also has fabulous golf courses and wonderful snorkeling.
If you and your hubby like wildlife and crave adventure, how about taking an African Safari in Kruger National Park in South Africa? Imagine the ambiance of camping out under the stars and exploring the wonders of nature during the daylight hours.
Top 10 Honeymoon Destinations - New York City

New York City also makes it to the top 10 getaway destinations. The above is a picture of the NYC skyline taken from New Jersey. I can feel the excitement, can you??? Visit a museum, take a horse and buggy ride around Central Park, visit the Empire State Building where you will get an awesome view of NYC, enjoy the zoo in Central Park, and don't forget to visit Wall Street, Soho, Greenwich Village, and the Statute of Liberty. Take a ride on the Circle C line and tour NYC from the Hudson River. Enjoy a world-class restaurant for dinner and then off to a Broadway Play.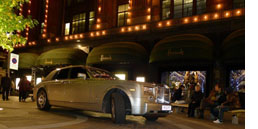 These are the top 10 honeymoon destinations, if none of the above are for you and your honey - check out my other honeymoon pages for more ideas.
So, you're looking for more planning ideas, let's go discover some more great tips!

Best Getaway Places and Destinations

Cheap Vacation Packages

Italian Honeymoon


Pictures are copyrighted and cannot be used without written permission © 2008 - 2015 unique-reception-theme-wedding-ideas.com ® All Rights Reserved
Click Here to read our disclosure regarding affiliate and advertising sponsors.