Need some great ideas for Casual Beach Wedding Dresses?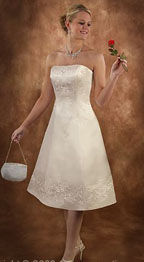 So what makes great casual beach wedding dresses?

Look for a light, airy dress that just seems to flow.
A strapless dress will be cooler than a long sleeve dress.
Short hem lines are more casual in nature. They will not drag in the sand and ruin the bottom of your dress. They will however, show off your beautiful legs.
Choose a light weight fabric that will keep you cooler than a heavy satin fabric.
Short, casual beach bridal dresses tend to be less expensive than traditional, long gowns with fancy trains.
Casual wedding dresses are easier to transport and take less space if you're traveling to your destination.
Informal dresses are less expensive than traditional, formal gowns. If you are shopping in a bridal store, let the sales person know that you are looking for an informal beach type dress and be sure to tell the sales person the price range of your budget.
What your guests don't realize is that you have been engaged in intense planning for over a year and you have decided on a beach theme because you love the beach and don't want a formal extravaganza.
It stands to reason that you are looking for a casual dress to coordinate with your beach theme.

Casual dresses are well suited for a beach theme and they are no less stunning than a long traditional gown.  Get some ideas for your perfect dress by looking at the pictures below.

More tips for casual beach wedding dresses.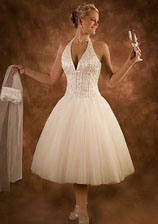 This gorgeous tea-length tulle skirt with cut crystal beaded halter top is a perfect choice for a beach ceremony and reception.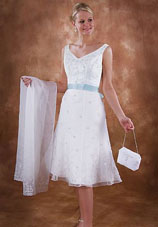 Carefree and charming is what this dress says.  This embroidered organza overlay, that falls just below the knee is topped off with a blue ribbon.  The bow helps create a fun and playful looking dress.  (The blue ribbon can be changed for whatever color scheme you choose for your beach theme.)

Casual Beach Wedding Dresses With Lace See Through Hemline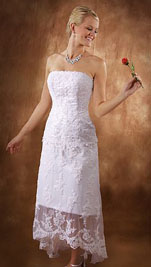 This strapless, glamorous tea-length dress with Venice lace is adorned with seed pearls and sequins.  It has a sweeping train wit a corset back making it a perfect dress for a casual beach theme wedding.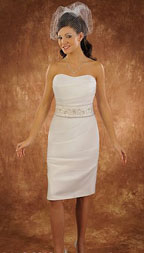 A beaded belt adds to this simple, stylish beach bridal dress.

A one shoulder stretch satin dress together with high slit, flower and touch of gold creates this very unique beach style dress.

Eye Catching Casual Beach Wedding Dresses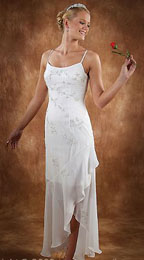 If you want a dress that combines short with long consider this beautiful column bridal dress made from chiffon.  It is adorned with floral hand sewn silver and clear glass beading. This spaghetti strap dress is perfect for an informal beach ceremony or party.

More Casual Beach Wedding Dresses

Another hi-low bridal gown that is perfect for a tropical or seashore affair is shown above.  This exquisite strapless gown features hand-cut glass crystals on a chiffon overlay. It features a corset back, strapless neckline and a sweep train.  If you choose a dress with a draping train remember you will need to be holding your train while you are walking along the beach and it could be quite cumbersome.
Long gowns are more formal by nature and if you really have your heart set on a long dress, go for it; just remember that your hem may become soiled, wet or sandy.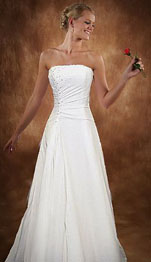 The above casual beach wedding dress is a striking chiffon gown that catches the eye with its glistening glass cut beads and sequins. The gown has a corset back and A-line skirt with a chapel train.
If you find a long gown that you love but don't want to deal with the hem dragging in the sand, ask if the dress can be shortened without giving up any of the dresses beauty.
I am happy to help with any bridal questions that you may have.  Feel free to ask by using my contact button found in my navigation bar.
Additional dresses and ideas can be found by clicking on any of the following links.
Need more help? Check my Welcome page.

Unique Wedding Dresses

Alternative Wedding Outfits

Short Wedding Attire 

Summer Wedding Gowns

Short Informal Attire


Pictures are copyrighted and cannot be used without written permission © 2008 - 2015 unique-reception-theme-wedding-ideas.com ® All Rights Reserved
Click Here to read our disclosure regarding affiliate and advertising sponsors.