Black Wedding Dresses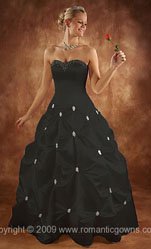 Black Wedding Dresses

In 1840, Queen Victoria married Prince Albert in a very fashionable white dress. Prior to that era most women favored bold colors or their Sunday best for their bridal ensemble.

Today, most brides choose to wear white or a variation of white, however, bold brides and celebrities are choosing to wear black for their nuptials and reception. Sarah Jessica Parker (Sex in the City) and Ellen Pompeo (Grey's Anatomy) both chose to wear a black gown.

A black bridal gown may shock some of your guests because they are used to seeing the bride wearing a traditional white bridal gown.  However, black does not have to conjure up images of bad luck, death or evil. 

Black exudes elegance, sophistication and formality. If you are a daring, stylish person, don't care what others say and would like to make a dramatic statement, go ahead and choose a black ensemble.

The luxurious tea length design shown below is adorned with black beading giving the dress just the right amount of sparkle.romantic lea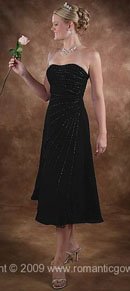 More Reasons for Choosing Black Wedding Dresses
Black is your favorite color.
White apparel makes you looked washed out and you look great in black.
Black hides many body flaws.
You're having a destination, beach or barn reception and don't want to worry about getting your dress dirty.
If you're pregnant a black gown will help hide your bulging stomach.
A black bridal gown will be less costly than a traditional white bridal gown because you can purchase your dress in a department store when they are running a sale.
Your black accessories (shoes, gloves, and handbag) will be less expensive and easier to find than white accessories.
A black dress can be worn over and over again making your bridal outfit economical and practical.
You're having a Gothic or Halloween theme.
Tips for Wearing Black Wedding Dresses
To avoid looking like a vampire wear a soft colored lipstick (no reds) and please, not too heavy eye makeup.
Have your bridesmaids wear a white dress with a black sash.
Ask your groom and groomsmen to wear an all white tuxedo. Using rhinestones and pearls will add a touch of sparkle and sophistication to your outfit.
I haven't seen any black veils so you may want to purchase black tulle and have a dressmaker make your veil for you.
For a bit of contrast, carry a red or white bouquet.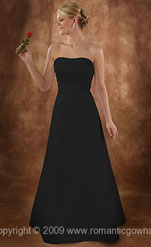 This elegant strapless black gown can be worn over and over again.  You can keep your dress fresh looking by changing your accessories. 

I do my unbridled best to offer you the most up to date, accurate, useful information and hope that my Black Wedding Dresses knowledge is helpful and useful.  If you need further assistance please click on my other links or send me your questions by using my contact me button on my navigation bar.


For more wedding planning please visit my introductory page.
Pictures are copyrighted and cannot be used without written permission © 2008 - 2015 unique-reception-theme-wedding-ideas.com ® All Rights Reserved
Click Here to read our disclosure regarding affiliate and advertising sponsors.