Need Ideas for Black Wedding Invitations?

Black Wedding Invitations can be Sophisticated or Sassy

Make your wedding an experience! Many brides are choosing black as their color theme because of its simple, classy, elegant look.



There are various ways to incorporate black into your wedding invitations.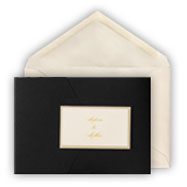 You can choose a black paper stock and use silver or gold lettering to express sophistication and opulence, or you can choose white, ecru or standard parchment paper with black lettering.  Another option would be to choose a light card stock with a black design.

 More ideas for black wedding invitations

The above black bridal invitation set features an embossed floral design onto bright white card stock creating a rich textured sense.  Each invite is embossed with the black on white design and has a tiny dotted border. You can choose the ink to coordinate with the other colors of your wedding palate.


This invite is printed with a combination of black and red for a look that really stands out.  If you match the liner of your envelopes and tissue paper with your ink color you will create a beautiful set of invitations that your guests will surely remember.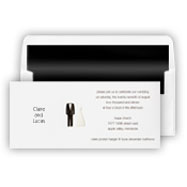 The tux and gown detail that adorns the above invite is modern and elegant in its simplicity. The invitation is set up with the wording on the right and the bride and groom's names placed on the left.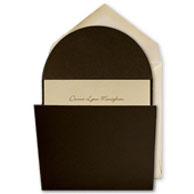 And this regal ensemble features a black jacket with ecru card stock and brass accentuated ink for a sophisticated polished look.  For a hint of sparkle, the tab is framed with a gold shimmer base card. The response card tucks neatly into the side pocket.  For a finishing touch, this classy black invite can be sealed with a gold monogrammed sticker.

For those of you who are striving to be more ecologically friendly, you can choose a black wedding invite that is made from recycled paper.

Whichever invitations you choose, be certain to pick a simple font that is easy to read.


Money Saving Tips for Black Wedding Invitations

If you're on a budget and would like to save some money on your black bridal invites but want a stylish invitation, take a trip to Staples or any stationery store and check out their boxed invites.  You'll be pleasantly surprised at the wide assortment of invites that they have to offer. 

To add a little pizzazz you can purchase black tissue paper to insert in the envelope or place some black, metallic confetti in the envelope.

There are many sources of discount invites that you can find on the Internet or you can use a kit that allows you to make your invites right in your home on your own computer.

Purchasing a self mailing piece eliminates a separate mailing envelope.  Some wedding invites have an envelopment, which can be black in color and wraps around all the invitation pieces for easy mailing.

Additional Black Wedding Invitations

Ribbon is becoming more popular with invites, so choose a black invite with an accent color and then use a ribbon in a coordinating color thus giving texture to your invite.


Black wedding invitations are in style and selecting black "save the date cards" and invitations are your window to letting your guests know what your color scheme will be. Wow them by incorporating my above ideas and check out my other invitation ideas on my links below.
Flower, Music, Reception, Honeymoon Ceremony help and more are located here.
Wedding Invitation Ideas

Creative Wording For Wedding Invitations

Wedding Invitation Paper

Wedding Etiquette for Invites
Pictures are copyrighted and cannot be used without written permission © 2008 - 2015 unique-reception-theme-wedding-ideas.com ® All Rights Reserved
Click Here to read our disclosure regarding affiliate and advertising sponsors.