Garden Wedding Ideas
Garden Wedding Ideas For A Memorable Wedding
Your love is in bloom and you are dreaming of a sweet, romantic celebration.

What could be more beautiful than a garden wedding?
Most people think of a fragrant floral garden as the only bridal choice for a garden affair. However, you might want to consider an herb garden, arboretum, or a friend's backyard.
Imagine your Dad walking you under a beautiful floral arch, interwoven with greenery and silk ribbon. A harpist is playing in the background and everyone rises to watch you walk down a garden path edged with bushes, flowers and potted plants. This is it, the beginning of your glorious day!

More Garden Wedding Ideas
Set the tone for your Garden Wedding with your Invites. There are many invitations to choose from, how about setting the tone for your garden celebration by incorporating your color palate, along with a floral pattern as your wedding invite.
It's always best to be prepared for inclement weather. Rent a canopy or tent in the event of a rain shower. You will also need to rent tables, chairs, lighting, and possibly a port-a-potty and wooden dance floor.
Garden Wedding Ideas Complete with a Bridge and Beautiful Shrubbery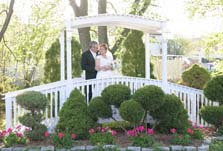 Most brides choose a daytime celebration for their garden wedding.  However, if your wedding celebration is being held in the evening you can sting white lights or colored lights that will coordinate with your wedding theme. Some brides love flowers, so they purchase potted flowers and greenery from a local nursery or supermarket.  They can then give the potted plants and flower pots to their guests as they are leaving your reception.  This idea is both a decoration and a favor. WOW, you hit the jackpot!

Other brides choose to use candles to light up the parameter of the reception area and on the tables for more lighting.
Decorations for a garden reception are created almost entirely by nature, leaving you more money to spend on other wedding items. If time permits, I recommend visiting your site at the same time of year that your marriage will take place. This will familiarize you with which flowers will be in bloom during your special day. Taking pictures of the site will help the florist coordinate the look that you want to achieve.
If your garden affair is being held at a public site, determine if the town requires a permit, what regulations apply and if there is a cost for the permit. You will also want to consider the potential of uninvited guests and which staff person will be responsible for letting the uninvited guest know that your affair is a private. It is also recommended that you speak with your caterer about how they handle flying and crawling pests.
One last thought for Garden Wedding Ideas.

Some brides may want a very informal wedding celebration and want their wedding to take place in an open field. Notice how simple but elegant the above table setting is.
Garden celebrations conjure images of romantic splendor and style. Using my garden wedding ideas will help you sort through your thoughts, bringing you the fairytale celebration that you always dreamed about.
Lots of planning tips can be found here.

Unique Outdoor Wedding Ideas

Beach Ideas
Las Vegas Outdoor Wedding Tips

Pictures are copyrighted and cannot be used without written permission © 2008 - 2015 unique-reception-theme-wedding-ideas.com ® All Rights Reserved
Click Here to read our disclosure regarding affiliate and advertising sponsors.