Autumn Wedding Ideas That will WOW your Guests
Autumn wedding ideas can be colorful and cool, just like the season. With the passing of the summer heat and humidity, fall is a wonderful time of year to be married. Let's explore some thoughts to make your special day romantic and memorable.
Close your eyes and what do you see when you picture yourself getting married in this season? Beautiful fall foliage with lots of reds, burnt oranges, browns, yellows, all these vibrant colors making a spectacular backdrop for your pictures. Be certain to plan enough time between your ceremony and reception to take advantage of nature's gift to us.

When thinking about your autumn theme, plan for every weather situation.  If you are getting married on the east coast or in the gulf region where hurricanes are common, make certain you have large umbrellas on hand, a pair of spare shoes, and lots of large heavy duty plastic bags. You can cut two slits in the bottom of the bag to place your legs through.  Pull the bag up a bit and you have a perfect dress protector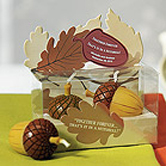 Candles add a warm glow and soft atmosphere to any room. With this in mind, you can reflect the fall theme in your favors by purchasing leaf design or acorn candles that will also serve as your table decorations.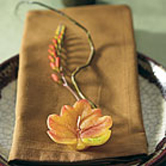 Fall wedding ideas for your favors can also include purchasing a candle glass holder, and using rattan, tie two small fragrant cinnamon sticks to the holder. Not only do you have a lovely favor, you will also add a wonderful aroma to the room.
Your reception hall can be decorated with natures finest. Pumpkins, acorns, corn husks, dried autumn leaves, berries, cornucopias and pine cones will add a touch of color and class to any room.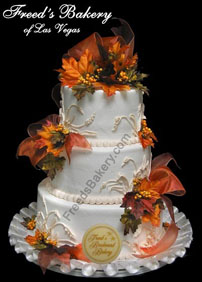 You'll surely make a hit with the above autumn style celebration cake. Its vibrant leaves and fall flowers will add a sense of class and beauty to your venue.

When thinking about your fall bridal ideas don't forget that your invitations are an important aspect of your wedding. They set the tone for your entire theme so remember to incorporate your fall colors into your invitations.


  Autumn Wedding Ideas ~ Dresses
And of course, you'll want your bridal dress to match your fall theme.
Autumn is a lovely time of year to get married and I do hope my autumn wedding ideas have you off to a good start for planning your marriage.

Our introductory page is loaded with tips and ideas. Take a peek!
Wedding Theme Ideas

Fall Wedding Tips
Pictures are copyrighted and cannot be used without written permission © 2008 - 2015 unique-reception-theme-wedding-ideas.com ® All Rights Reserved
Click Here to read our disclosure regarding affiliate and advertising sponsors.