Winter Wedding Themes
Winter Wedding Themes

Many brides choose the spring or fall for their wedding nuptials, however there is something infinitely remarkable and romantic about a winter wedding.  Perhaps it's the warmth of the air hitting you when you come in from the cold or the magic of the ground covered with snow.

A blizzard or snow storm on your wedding day can present quite a challenge for you and your guests.
It's a good idea to plan ahead and take precautions for such an event.  If a snow storm is predicted, ask your friends and family members if they can accommodate some of your guests who live too far to drive in the snow.  You may also want to reserve a few four wheel vehicles from a car rental agency.  If you can't get a few cars to use, you may want to consider hiring a bus to shuttle your friends and family members to and from your ceremony and reception hall.

Invitations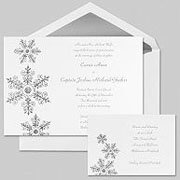 How about adding some sparkle and romance with these all white, snowflake invitations?

 Venue

For a large reception, try finding a venue in a historic mansion with a large, working fireplace that has picture windows for you and your guests to enjoy looking out onto the beautiful snow covered ground.  Large mansions and older homes tend to be drafty.  Verify that the reception hall that you choose has a good heating system and will be turned on many hours before your celebration begins.
In an effort to save money on flowers and decorations ask the reception hall maitre d' what seasonal decorations and accessories will be in place during your reception. 
Attire for Winter Wedding Themes
Picture yourself in a long, white satin or silk dress with a white faux wrap and your honey in tails.  The winter season suggests ice, so evoke the season by wearing diamond or faux diamond jewelry and of course, a rhinestone tiara.
Very few bridal gowns have long sleeves, so I recommend using a wrap, shawl or cape especially if you will be taking outdoor pictures.  If you're getting married around the Christmas season, consider a red shawl and have your groom and groomsmen wear red bow ties and cummerbunds. 
Consider giving your bridesmaids a matching red shawl as their gift for being in your bridal party.

Winter Wedding Theme Flowers
Silver, gold and white are elegant winter colors that look fabulous with red berries, pine and holly greenery. 
Amaryllis is a winter flowering plant that will look great in a clear glass vase surrounded by holly branches. 
For an added touch of elegance try some pussy willows mixed in with your greenery.

Winter Wedding Themes - Cake Ideas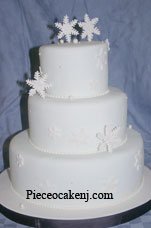 Consider this all white, snowflake cake.  Set it on a large silver tray and scatter clear diamond shaped crystals around the cake.

Favors

How about surrounding your centerpieces with these wedding candles and then ask your guests to take them home as favors.  You will add a romantic glow to your reception hall and your guests will be delighted with their favor.
Another idea for a favor is to give a snowflake wine bottle stopper which can be used over and over by your guests.
A recent wedding that I attended had a winter theme photo frame that was absolutely beautiful and very functional.
Winter wedding themes are abound with creativity and originality.  Click below on some of my other theme ideas.

Looking for new Ideas?  Check this out!
Wedding Theme Ideas

Christmas Wedding Ideas

Snowflake Wedding Ideas

Winter tips for the Bride


Pictures are copyrighted and cannot be used without written permission © 2008 - 2015 unique-reception-theme-wedding-ideas.com ® All Rights Reserved
Click Here to read our disclosure regarding affiliate and advertising sponsors.