Western Wedding Theme Ideas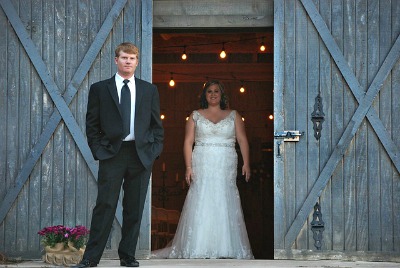 Western Wedding Theme Ideas

Since you and your fiancée love the old west, you've decided a western theme is exactly what you want to celebrate your "tying the knot."
Set the tone for your western theme by incorporating cowboy phrases such as: "getting hitched" and "your invited to a rip snorting, boot stomping good time," in your bridal invitations. 
A barn, dude ranch, park or open grassy field would make a wonderful location for a western reception.
Other western wedding theme ideas include wearing a white lace dress with white cowboy boots and hat with your veil flowing from the bottom of the hat.  If a hat is not your thing, how about placing wildflowers in your hair?  This dress can be found and ordered from Martin McCrea, who has many fabulous dresses to choose from.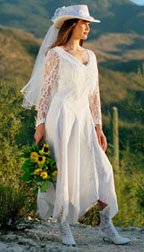 Remember - in order to be authentic, you should avoid flowers that weren't available back in the cow boy days.  Refrigeration only consisted of ice blocks, so specialty flowers should not be used. 

Your bouquet can be yellow roses tied with gingham ribbon or coordinate your ribbons with your bridesmaid's dresses.  Arrive at your reception on horseback or in a horse drawn buggy. 
You can decorate the entrance to your reception using old wagon wheels with white mums intertwined along the spokes.  Placing wildflowers in Mason jars as table decorations will give an authentic western feel to your room.  Using checkerboard or gingham tablecloths also adds a sense of the Wild West.
A unique favor idea would be to fill small burlap bags with candy and use twine to tie the bag at the top. Placing one bag next to each place setting will give an added sense of decoration and a genuine western ambiance.
More Western Wedding Theme Ideas

Another great western favor idea is shown above.  Purchase a mason jar, lace and twine. Fill the bottom of the jar with stones or clear glass. Add simple flowers and place the centerpiece upon the table or on some books as in the picture above.

How about the above western cake topper?

If your reception will take place in a barn or open field you can use picnic style tables and place lanterns on the tables for additional light and decoration.  Don't forget to rent a tent or canopy just in case, heaven forbid, it rains.
Your menu choices can include barbeque meat with hot spicy ribs, smoked chicken, pork chops, beans, and coleslaw.  If you are planning on serving alcohol and mixed drinks consider also serving lemonade, Big Red, Lone Star beer and Mojitos.
Entertainment for your Western Wedding Theme Ideas
If the added expense of a DJ or live band is not within your budget consider having someone bring a fiddle, banjo or guitar to play during your reception.
For entertainment, you can have a game of horseshoes; knock the tin cans over using beanbags and of course, sack races.  Consider having a barn fire as the sun sets with your guests sitting in a circle singing western songs such as: "Oh Give Me A Home" "Back in the Saddle Again," and "Red River Valley."
Before you begin planning your wedding, watch old western movies, read a few books and look at some pictures of the Wild West.  Take note of the style of speech, dress, traditions and music. Be sure to use any of my Western Wedding Theme Ideas for a truly creative Western theme.


Take a peek at my introductory page for more thoughts.

Wedding Theme Ideas

Western Theme Bridal Invitations

Country Wedding Ideas

Western Wedding Dress

Western Wedding Ideas



Pictures are copyrighted and cannot be used without written permission © 2008 - 2015 unique-reception-theme-wedding-ideas.com ® All Rights Reserved
Click Here to read our disclosure regarding affiliate and advertising sponsors.