Western Wedding Ideas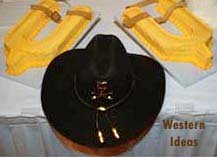 Western Wedding Ideas
Ypipee, you and your cowboy are tying the knot using a western wedding theme.
Location
Thinking about where to host your western reception? How about an open field, ranch, barn or farm? However, any room can be decorated to have your guests feel as if they are in the Wild West.
Decorations
To ensure an authentic atmosphere for your western reception, rent a few movies, such as: "High Noon", "Tombstone" and "How the West Was Won" take notes, and read on.
Hang a lasso, old cowboy pictures, and lanterns on the walls of your room.
Use rope instead of streamers to decorate pillars and outline windows.
Stack bails of hay on top of one another to form an entrance table.
Instead of numbering the guest's tables, give them names such as Buffalo Bill, Annie Oakley, Will Rogers, Wyatt Earp, Billy the Kid and Jesse James.
If you can rent or purchase old milk cans, fill them with wild flowers that will look as if they were just picked from the prairie.
Red and white checkerboard table clothes were often used to cover tables during the wild western era. If red and white doesn't fit into your color scheme consider any gingham pattern.
Choose a cactus centerpiece surrounded with small rocks and stones. Another centerpiece idea is to turn a cowboy hat up side down and fill it with lily of the valley, forget-me-not, columbine flowers and thistle, any of these will certainly add to your western reception theme. A cowboy boot can also be filled with flowers.
Entertainment for your Western Wedding Ideas

If a live band or DJ is not within your budget, bring your own CD's. If your budget permits, hire a square dance caller and fiddler to teach your guests a few barn dances. The Virginia Reel (which was very popular in America from 1830 to 1890) is an easy line dance that everyone can enjoy.
Attire for Western Wedding Ideas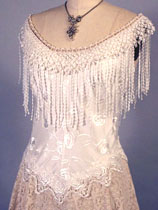 For a formal western bridal gown consider something as shown above.

If you are a very casual person, let your guests know that jeans and cowboy/cowgirl attire are acceptable.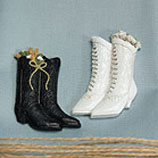 How about wearing old fashioned lace-up boots?
Instead of the traditional blue and white garter, consider a fringe bridal garter.
For a thigh slapping, heel-clicking memorable reception, use my western wedding ideas and create the wedding of your dreams.
Check back with my home page for more ideas.

Wedding Theme Ideas

Western Theme Invitations

Country Wedding Ideas

Western Wedding Dress

Western Wedding Theme Ideas



Pictures are copyrighted and cannot be used without written permission © 2008 - 2015 unique-reception-theme-wedding-ideas.com ® All Rights Reserved
Click Here to read our disclosure regarding affiliate and advertising sponsors.