Wedding Invitation Paper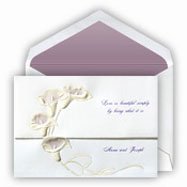 Wedding Invitation Paper

Your wedding invitations set the tone and theme of your wedding.
They let your guests know the wonderful time they will have at your celebration as well as the date, time, place, directions and other particulars about your upcoming nuptials.

The type of invitation that you choose is entirely up to you and your individual personality.  I encourage my brides to keep their invites in line with the overall theme of their wedding. 
If you are having a traditional celebration, it's a good idea to choose invites that are white, cream or ecru and have a soft romantic look to them.  Conversely, if you are hosting a modern, chic affair, then using a more colorful, sleek and sophisticated design will work.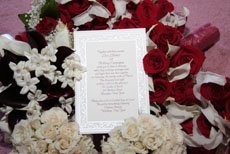 Types of Wedding Invitation Paper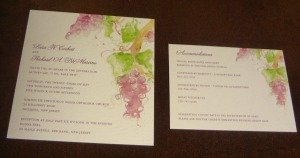 There are several different types of paper to choose from and what you decide upon will affect the look and cost of your invitation.
Paper made of linen  has a slight texture, is classic and sends the message that you are hosting a traditional wedding.

Cotton paper is a popular choice for invitations, as it expresses a sense of elegance and will last for many years. Choosing a cotton blend rather than using 100% cotton will definitely be gentler on your budget and bring about a cost savings.
Parchment has the appearance of ancient times and conveys a sense of importance.
Vellum paper is translucent and can be used as an overlay for invites giving the invitation an elegant look. Vellum comes in a variety of bright colors, besides the traditional white and cream tones. Metallic, speckled and marbled vellum are other options to choose from.
Metallic paper comes in soft, shimmery, pearlescent finishes in addition to glossy silvery embossed finishes.
Many modern brides want to go green for their wedding so they are opting for recycled paper invitations. Their lower cost is virtually indistinguishable from non-recycled paper, please note they have a tendency to be less sturdy than their cotton or linen counterparts.
Heavy card stock paper is thicker than cotton and will resist bending while in transit. It has minimal bleeding during the printing process and is thick enough to put in a picture frame. Heavy card stock is the paper of choice for most professional printers.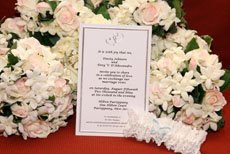 Today's brides have many choices for paper composition, color, and texture.  I do hope my ideas for wedding invitation paper have sparked your imagination and will get you on the right track for choosing an invitation that delights you.


Find unique ideas and money saving tips here.

Wedding Invitation Ideas

Wedding Invitations Etiquette

Calla Lily Wedding Invitations

Pictures are copyrighted and cannot be used without written permission © 2008 - 2015 unique-reception-theme-wedding-ideas.com ® All Rights Reserved
Click Here to read our disclosure regarding affiliate and advertising sponsors.