Wedding Ideas For Flowers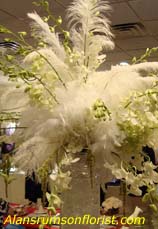 Wedding Ideas For Flowers

There are no rules for brides when choosing your wedding flowers.
Your bridal flowers can be simple, elegant, romantic, trendy, casual, chic and/or classy. Every bride should keep in mind, her color scheme, budget and the message she wants her flowers to convey.
There is so much going on just prior to your wedding that I would not recommend being responsible for making your own floral bouquets or centerpieces unless you are going with silk, dried or paper posies which can be made way ahead of time.
Unless you are using a trusted friend or family member, it is a good idea to choose a florist a year ahead of time, however, the actual choices need not be made until three or four months before your marriage.


More Wedding Ideas for Flowers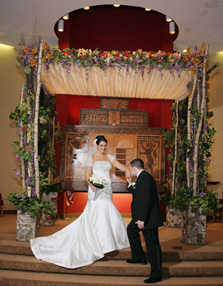 For the brides who love flowers you can even decorate your Chuppa with flowers and greenery.  This bride was very creative when she decided to have the pillars made of birch tree trunks.  You just need to plan ahead and use your imagination to guide you in creating your "perfect look."
Ask friends and recent brides for recommendations on the florists in your area.  Try to use a local florist who will be concerned with maintaining their good reputation and providing you with quality bouquets and arrangements.  You might spend a few dollars more, but you know your flowers will show up on time and be what you were expecting.
If you don't have recommendations, visit a few local florists and ask to see pictures of their work. Perhaps they will invite you to view their creations prior to a delivery.
You can also go to a nearby catering hall and ask the manager who they would recommend as a florist.
Give the florist a general idea of what flowers you would like to have, and which are not acceptable to you.
If you are budget conscious, keep in mind that flowers are more expensive around holidays, especially Christmas and Valentine's Day.  Be prepared to use posies that are in season and abundantly available during the season you are going to be married.
Sometimes brides double use their arrangements by moving the floral pieces from the ceremony to the reception hall. It will look tacky if you remove the arrangements before all the guests have left the ceremony area; I suggest you ask the person who will be transporting the arrangements to wait until all the guests have left the ceremony before they remove the flowers.
Wedding Ideas For Flowers When You're On A Tight Budget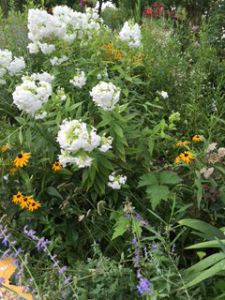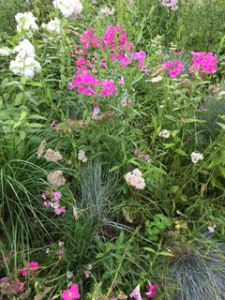 If your on a really tight budget and decide that your flower budget should be spent on your bouquets consider picking flowers from your and your friends gardens.  The above flowers can be arranged in a clear vase from the Dollar Store and will certainly jazz up your reception tables.

Flowers really do add pizzazz to weddings.  Be creative and utilize any of my wedding ideas for flowers.
Always start with good ideas and tips. Tap here for great suggestions.
Blue Flowers

Flower Tips for Your Special Celebration



Pictures are copyrighted and cannot be used without written permission © 2008 - 2015 unique-reception-theme-wedding-ideas.com ® All Rights Reserved
Click Here to read our disclosure regarding affiliate and advertising sponsors.