Wedding Hairstyles For Long Hair

Welcome to my page on wedding hairstyles for long hair.  I'm happy to tell you that if you're looking for the perfect bridal hairstyle you've come to the right place.  I have lots of tips and ideas to help you whether you're in search of a curly, straight, simple or an elaborate hairstyle.

Another factor to consider before choosing your hairstyle is - will you be wearing a veil, tiara, hair clips, combs, flowers or anything else in your hair?  You will also want to consider the volume and condition of your long tresses. 
If your hair is thin and not full, you may want to use extensions to give you a fuller look. For brides that have a lot of split ends, have your locks trimmed before you begin your styling.
There are an endless number of hairstyles for long hair that you can choose from. As I mentioned in my page
Wedding-Day-Hairstyles
the shape of your face, your eyes, cheekbones, nose, lips and the style of your dress all play an important part in the hairstyle that you choose.
Let's begin with curly hairstyles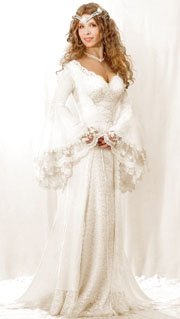 Photo courtesy of faeriebrides.com

This hairstyle looks best on a bride that has a lot of volume to her tresses.  For the bride who doesn't have curly locks the look can be achieved by using a small barreled curling iron or small hot rollers.


Half up wedding hairstyles for long hair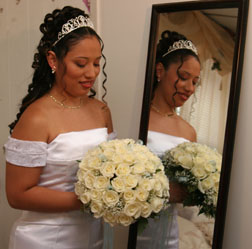 This bride has naturally curly hair and chose to wear it half up with a tiara and used tendrils to frame her face.

Brides whose long locks are normally straight can use a large barrel curling iron to give her hair just a small amount of waves.  It can be set off with a large elegantly decorative clip, flowers or ribbons as shown below. Tap on the picture to be taken to an accessory store where you will find many hair accessories at reasonable prices. 


Another idea is to wear hair and bangs perfectly straight and chose a short netted veil with a flower over the left ear.  Very elegant and sexy!
This classic, off to the side, long hairstyle was created by using hot rollers and spraying the curls as they were placed around the face.  This style looks magnificent with a crystal tiara and long veil. Tap on the pictures on the top right of this page to view many beautiful, reasonably priced hair accessories.


More Ideas for Wedding Hairstyles for long hair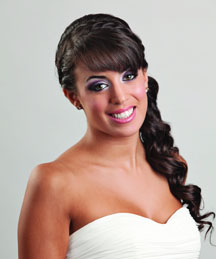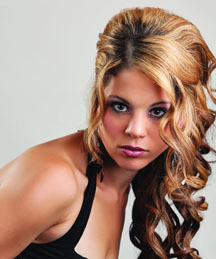 The above styles were created by Elizabeth Jones of www.theupdoguru.com and the photos were taken by Dragon Ink.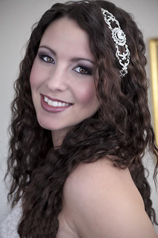 The above picture is courtesy of Updo Guru, Focalvisions and Metro Glamor Photography.
Whatever hairstyle you chose, it's a good idea to have several practice runs months before your wedding, so if any adjustments need to be made, you have plenty of time to make changes.
Another good idea is to have a picture taken with your make-up and hair accessories.

I do hope my tips for wedding hairstyles for long hair helps to inspire you and your stylist to create a gorgeous, unique hairstyle, tailor made, for your romantic wedding day.

Need more planning ideas? Check out my Welcome page.


Updo Hairstyles

African American Hairstyles

Styles For Medium Hair


Pictures are copyrighted and cannot be used without written permission © 2008 - 2015 unique-reception-theme-wedding-ideas.com ® All Rights Reserved
Click Here to read our disclosure regarding affiliate and advertising sponsors.