Wedding Colors Theme
 Wedding Colors Theme

Have you decided on your wedding colors yet? Choosing your color scheme is difficult and should not be put off.
Let's talk about the possibilities and make a decision because you can't do any planning until you have chosen your color palette.
The above photo is a great example of a two color scheme that works well together. The bridesmaids dresses, favors, centerpieces, bouquets and hall lighting,  all were done in blue and yellow.

Your florist and baker will want to know your color theme before they begin making any recommendations. Besides, having specific colors gives a sense of unity and elegance that you will not find if you haphazardly throw a bunch of colors together. 
Sometimes your bridal choices are driven by: the season of year, the preset decorations, carpeting, wall paintings, lighting fixtures, size of your bridal room and your individual tastes.

Wedding Colors Theme Ideas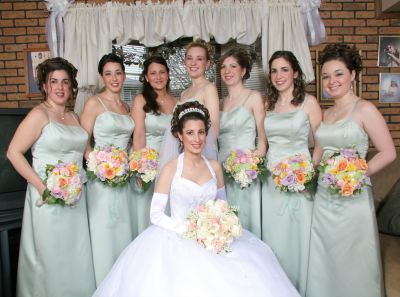 Seasonal Bridal Choices

Spring is a time of renewal and rebirth. Pastels and greens are the colors of choice.
The warmer summer months are an explosion of color with lively greens and all the magnificent hues of the rainbow.
Notice int the above picture the beautiful colors of the bridesmaid's bouquets and how well they coordinate with the celery green dresses.

If your venue is taking place in a really hot climate how about cooling things down a bit by choosing cool blues and soft peach tones?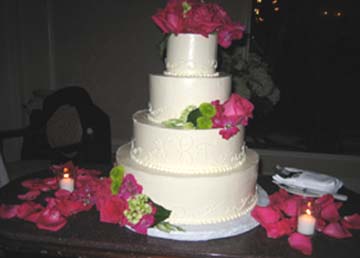 When thinking of a fall celebration, one thinks of the autumn foliage with bright orange, harvest golds, deep greens, browns, reds and purples.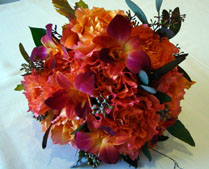 More Thoughts for your Wedding Colors Theme

What are your thoughts when you think of a winter wedding? Christmas, New Year's Eve and Valentine's Day are the traditional winter holidays.  So what color pallet comes to mind?
Red, green, black, white gold and silver are the usual winter colors.

Decorations for Your Hall

It's a good idea to take into consideration the colors of your reception hall when choosing your wedding colors especially if the room has strong colors. By that I mean, if the room has very dark colors you may want to brighten the room up by using some neutral or light colors. Conversely, if the reception hall is decorated in bland neutrals adding vibrant colors will add life to the room.

Choose Colors That You Like and Fit Your Lifestyle for your Wedding Colors Theme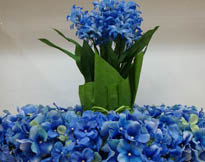 If you have your heart set on a particular color, go with it.  Coordinate your bridesmaid's dresses, table linen, gift-wrap for your favors, centerpiece flowers and cake.
When choosing your colors stick with two colors or three at most, you don't want your wedding to look like a circus.
Avoid using too much black, I went to one wedding and it looked more like a funeral than a wedding celebration.
If you're not certain how some of your chosen colors will go together, take a trip to a paint or hardware store and look at their color wheel.  You'll be surprised to find that there may be shades of the same color that you never even thought to put together.
There are many shades and hues to choose from, don't be afraid, be creative and your wedding colors theme will work just fine.

Touch here to get some fabulous Bridal ideas.
Black and White Ideas

Diamond Bridal Theme

List of Bridal Motifs



Pictures are copyrighted and cannot be used without written permission © 2008 - 2015 unique-reception-theme-wedding-ideas.com ® All Rights Reserved
Click Here to read our disclosure regarding affiliate and advertising sponsors.