Wedding Car Decorations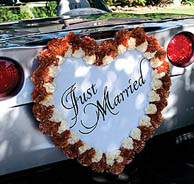 Wedding Car Decorations - Bridal Car

When you and your spouse are making your romantic reception getaway, you want your decorations to be as classy or sassy as your ceremony and reception.

Enlist the help of your friends when thinking about decorations for your car and have them bring your decorated automobile to your reception. 
Your budget and the amount of time you want to spend on decorations for your car will determine what your car will look like when you drive off into the sunset.
 
A "Just Married" banner is a classy, traditional choice for any couple.  If a store bought banner is not within your budget you can write on your windows with an automobile window-decorating marker.
Vinyl clings are easy to use, don't stick to your windows or paint and won't mess or damage your vehicle.  They work in all kinds of weather and will not fly off while you are driving.
Some florists specialize in the art of decorating wedding automobile by using fresh flowers to adorn the mirrors, door handles, hood, trunk and grills.  I recommend using flowers that are color coordinated with your vehicle and wedding scheme. 
Decorations for your automobile can include: silk flowers as a popular alternative to fresh flowers and they are quite lovely too. Balloons are also a popular choice.
Crepe paper and streamers that are color coordinated with your car are an inexpensive way to decorate your vehicle.  Some people tie balloons along the crepe paper and it gives the car a sassy look. 
If you are planning a formal wedding, sheer organza ribbons are suitable and they can be draped over your car or used as bows.
More Wedding Car Decorations

In the "olden days" it was common to decorate the getaway car by tying beer cans to the bumper and having a hand-painted "Just Married" sign on the trunk.  This idea still works today!
How about this for detail - Have a "Getting Married" sign on the back of your car, trolly or bus while you are on your way to the ceremony.

More Wedding Car Decorations, Pictures and Ideas
Then after the ceremony - have the driver change your sign to read, "Just Married."  Your guests will be amazed at your level of detail and creativity.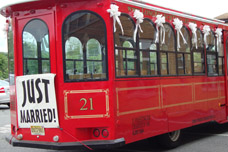 When decorating the bridal auto, it is important to remember that safety comes first.  Never obstruct the view of the driver and be certain that all decorations are securely fastened to the vehicle and won't blow off and cause an accident.
Your creativity and imagination will help guide you when deciding on the right wedding car decorations you choose.

Looking for more great ideas? View my Welcome page.

Pictures are copyrighted and cannot be used without written permission © 2008 - 2015 unique-reception-theme-wedding-ideas.com ® All Rights Reserved
Click Here to read our disclosure regarding affiliate and advertising sponsors.