Updo Wedding Hairstyles That Will Have Your Hubby Smiling!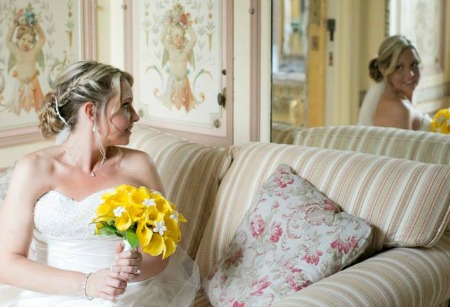 Updo Wedding Hairstyles – How to find the right updo, just for you!


You've chosen your dress and now you are deciding what to do with your hair. You purchased an elegant gown and want your hair to reflect your regal dress and personality. What better hairstyle than having your hair in an updo?

Updo's are a perfect choice because they offer a wide variation of styles and once your hair is put up and sprayed you don't have to worry about it being spoiled by the humidity or wind.
You want to look unique and beautiful so get inspiration for your bridal updo by looking through hairstyle magazines, the Internet, hairstyle websites and bridal books. Whether you are trying to achieve an elegant wedding updo or a more trendy style, there is a perfect style to suit every bride.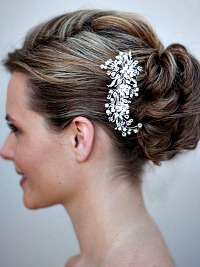 Hair Jewelry for Updo Wedding Hairstyles
Updos are often difficult to create and practice is needed. Even if you're "good" with your hair, you should find a stylist to do your hair on your wedding day. There's enough for you to do and you don't need the distraction or stress of trying to do your own hair. After all, you've spent a good dollar on your dress, why skimp on your hair? Choose the best hairstylist that you can afford.
If your regular stylist is an expert at updos, give him/her a try. If not, by all means find someone that you are confident will do a good job on your hair for one of the most important days of your life.
How to Find Expert Updo Wedding Hairstylists  
•Ask your friends if they used someone who listened to what they were looking for and were able to deliver the hairstyle that they wanted.

• Visit different bridal salons and take a look at what the stylists are creating.

• If you live in, or near a big city, chances are they have hair shows that you can attend and talk to the different stylists.

• Modeling schools tend to use high fashion stylists when premiering their models. Ask the school if they can recommend someone for you to try.

• Look through photographer's portfolios and if you find a hairstyle that pleases you, ask the photographer if he/she will give you the bride's contact information. Call the bride and find out if the person she choose seems like someone you can work with.

More Tips to for Updo Wedding Hairstyles

Once you have found a hair stylist that you believe will do a good job on your updo, have the stylist do a trial run several months before your wedding.

Updo Wedding Hairstyles that Look Great with Tiaras


Determine if you will use bobby pins, hair jewelry, a veil, flowers, ribbons, pearls or a tiara. Bring all accessories with you for your trial run. Let your stylist make suggestions and give you feedback on whether your updo works with the shape of your face and your dress.
Click on one of the pictures in the top right of this page and you will be delivered to "Hair Comes the Bride."  This store has many hair accessories to chose from.

Ask the stylist if they want you to wash and condition your hair the night before or on the day of your wedding. Sometimes stylists like to work with hair that is squeaky clean and others prefer to work on hair that has some natural oils from the previous evening.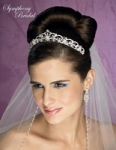 If you're happy with the updo that you have chosen take several pictures at different angles. What looks good "head on" may not give you the profile look that you desire. If time and money are not an object, ask the stylist to try another updo and determine which updo you prefer.
Remember, if you have short hair you can have extensions put in and use any of the elegant updo wedding hairstyles found on this page.
My welcome page has great ideas, please check it out here!

Wedding Day Hairstyles

Hairstyles and Makeup for Wedding Day
Wedding Hairstyles For Short Hair


Pictures are copyrighted and cannot be used without written permission © 2008 - 2015 unique-reception-theme-wedding-ideas.com ® All Rights Reserved
Click Here to read our disclosure regarding affiliate and advertising sponsors.