Unique Wedding Bouquets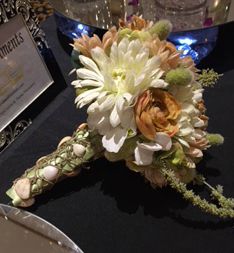 Unusual and Unique Wedding Bouquets

You're one step away from having your dream wedding.  Now you just need to concentrate on your bouquets. So what kind of bouquet fits in with your theme?
Do you want a large or small bouquet? Are fresh flowers on your mind or would you prefer a silk floral arrangement or something totally different?
The above bridal bouquet with sea shells and fisherman's netting will work well for a beach wedding theme. The flowers can be changed to create a more spring or summer effect by switching out the orange roses and mums for a softer pink rose or white lily's.  Just about any pastel colored flower will work. You can purchase the shells and fisherman's netting at most craft stores. If you're having a florist put your wedding bouquet together, talk to him/her about the exact look that you're interested in.
Let's start exploring some Unique Wedding Bouquets and Ideas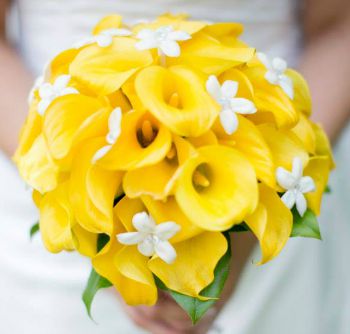 The above yellow calla lily and white stephanotis bouquet makes a great combination. The stephanotis are known for its beautiful scent without taking up too much room in the bouquet. Their popularity as a wedding flower has some referring to them as the "bridal veil" or "bridal wreath." This bride chose to have her florist add rhinestones by hollowing out the center of the blooms. If pearls are your favorite, you can have pearls in place of rhinestones and the effect is a little softer.  Either way, you'll have a unique wedding bouquet.
Unique Wedding Bouquets with a Picture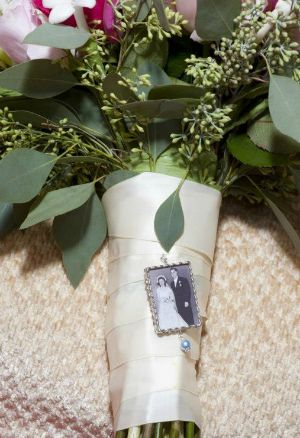 For those brides who have lost someone who was very dear to them they can remember their deceased loved one(s) on their wedding day by pinning a picture of the person (s) on their bouquet holder.  Having them with you in spirit my ease your sadness that they are not with you in person. A bride can also honor her husband's deceased loved ones by carrying their picture.

More Ideas for Unique Wedding Bouquets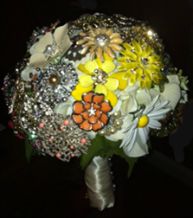 So you've chosen not to have a floral bouquet but instead you'd like to have a lot of bling as shown above/below.  These magnificent arrangements were created by the bride going to several craft stores, yard sales and asking her friends and family for their broaches, hair clips and other pieces that could be used in her wedding bouquet.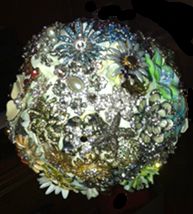 This bridal bouquet is similar to the one above it just has different color broaches and pins. The beauty of the above bouquets are that they can be made ahead of time, won't wilt, and will last a lifetime. They can be displayed in china closet or left in a vase on a coffee table.

The below silk flower arrangement makes a great bridal bouquet in that it has lots of fall colors and will make a lovely display after the wedding day festivities are over. Silk flowers can be manipulated or arranged in a way that fresh flowers can not. 
Silk flowers also work beautifully for the bride who is traveling to a destination wedding. They can be boxed and will arrive in perfect condition.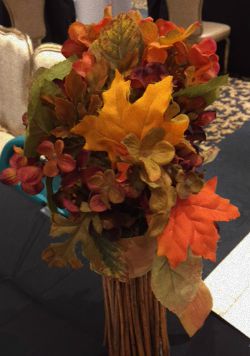 I do hope you have gained some inspiration from reading about my Unique Wedding Bouquets.  If you have any questions, please don't hesitate to ask me for help by using my contact button.

For more wedding inspiration take a look at my first page where it all begins!

Pictures are copyrighted and cannot be used without written permission © 2008 - 2015 unique-reception-theme-wedding-ideas.com ® All Rights Reserved
Click Here to read our disclosure regarding affiliate and advertising sponsors.