Sandcastle Wedding Cake - Ideas and Designs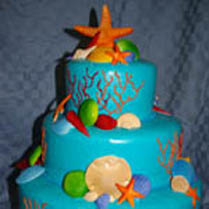 Tips For Creating A Sandcastle Wedding Cake
When choosing a beach theme I think of a beautifully decorated Sandcastle Wedding Cake.
Who says your cake has to be edible? You could create your own exquisite castle design by covering a styrofoam form. This cake will be used as a decoration for your guests to view and used for the cake cutting ceremony. The smaller top tier can be made of yellow cake mix that you and your hubby will serve each other during the cutting ceremony. Have your baker, a friend or family member make a sheet cake that will be cut up to serve your guests. This is an inexpensive method to have a beautiful cake at a lower cost.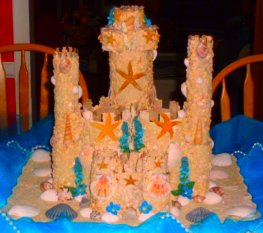 The above creation was easy and fun to decorate. Gluing two oatmeal boxes and several cardboard tubes to a cardboard base made this sandcastle wedding decoration. It was then carefully coated with modge podge (you can use any white glue) and sprinkle with oatmeal. Then spread another coat of modge podge and sprinkle with a mixture of white sand and white glitter. Once that step is completed and dry, glue on the shells, starfish, artificial flowers and greenery and any other beach ornaments you choose. Then place the completed decoration on a raised base and decorate with turquoise netting, pearls, white lights and a fish net. You will be delighted with the results.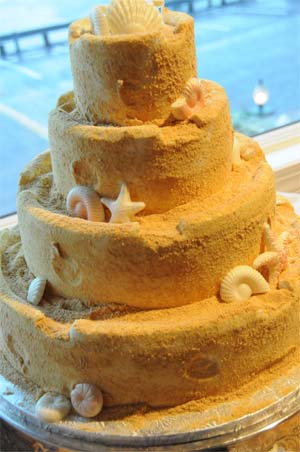 This Seashore Wedding cake was created for it's beach wedding theme and was eaten by the wedding guests. Four different sized round yellow cakes were baked, placed on top of each other and then a thin coat of icing was spread on each layer. Before the icing was dry, graham cracker crumbs were pulverized in a blender and sprinkled over the icing creating a sand effect. Seashells were then pressed into the icing and the cake was placed on a silver tray with the remaining grand cracker crumbs spread about to create a look of the cake being placed upon the sand.
These creations are not difficult to make and in addition to using the above ornaments you can place a ceramic anchor tied to string for an added beach effect.
With varying designs and inspired thoughts you can create a magnificent sand castle wedding cake to dazzle your guests.
Go from Sandcastle Wedding Cake to Unique Reception Theme Wedding Ideas Home


Wedding Cake Ideas

Beach Themes

Tropical Reception Themes

Cheap Wedding Cake Ideas

Christmas Ideas

Disney Cakes

Elegant Cakes

Grooms Cake Ideas and Designs

Martha Stewart Cakes

Pink Cakes

Simple Cakes

Square Cakes

Tropical Themes and Designs

Unusual Cakes

Wedding Cake Designs

Cupcakes

Beach Reception Ideas

Engraved Gifts

Transportation Ideas

Centerpiece Ideas

Wedding Photo Ideas

Wedding Flower Ideas

Creative Wedding Ideas

Honeymoon Ideas

Top Honeymoon Locations

Cheap Wedding Ideas
Click Here to read our disclosure regarding affiliate and advertising sponsors.