Renaissance Wedding Ideas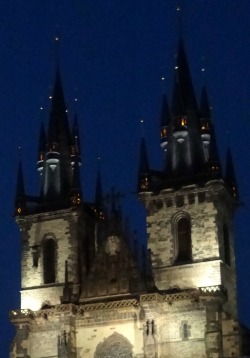 Renaissance Wedding Ideas For Your Medieval Wedding
Many couples are choosing to venture away from traditional wedding themes and are opting for unique and different ideas to express their individuality.
Renaissance Wedding Ideas for Invites
Set the tone for your wedding by having your invitations printed on ivory or beige parchment paper using calligraphic font. Your invites can be rolled up and tied with satin ribbon. If you prefer using a flat envelope use a wax seal as a sign of medieval authenticity.
Renaissance Locations
Perhaps there is a Gothic or Renaissance style church with large stained glass windows in your area and the pastor will permit you to have your ceremony performed in their church.
A stone castle, Tudor style home or catering hall will provide the ambiance that you are looking for. How would you like your reception to be in a castle as in the picture above?
An area in a secluded forest, will give a Robin Hood feel, however, make certain your guests will be able to find and get to your location. Another Renaissance venue would be to have your reception in a Medieval Dinner Theater.
Renaissance Wedding Attire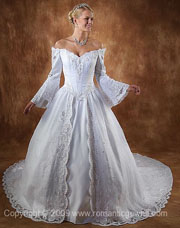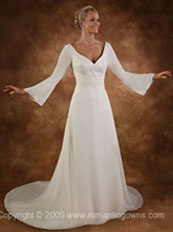 Imagine yourself walking down the aisle in an appropriately low cut gown that has a laced back. An ivory wreath with free flowing ribbons will add an authenticity to your Renaissance ensemble. Your bridesmaids can also wear gowns from the Renaissance or Medieval period that can be rented from a costume shop.
Create Ambiance and Authenticity for you Renaissance Wedding Ideas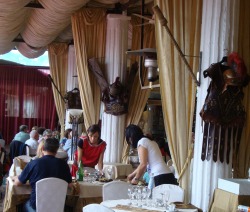 Use wrought iron candle holders with dried flowers as your centerpiece.
Surround your guest book with candles and place a quill with an ink bottle on the table.
Obviously the above picture is not a true Medieval Hall but notice the ceiling is draped with fabric and there is a a coat of arms on the pillar and lots of fabric decorations.

Hang heraldic banners from wooden dowels on the walls of your Renaissance decorated reception room. Heraldic banners can be copied from the bride or groom's family crests or you can create your own heraldic images by choosing images from heraldry books or looking on the Internet for Medieval and Renaissance pictures.
Your Renaissance Feast
Work with your caterer and choose goose, quail, roasted boar, carrots, hearty vegetables, asparagus, onions and lettuce. Cheese, nuts, berries, tarts and custards were popular during the medieval/renaissance times. Consider serving beer, wine and fruit juices along with other drinks.
Renaissance Music and Entertainment
Have your DJ play a Renaissance or medieval tune for your grand entrance. The DJ can then intermingle modern music with some medieval music.
If your budget permits, hire a juggler or court jester to entertain your guests during your cocktail hour.
Attend a medieval festival and use my Renaissance Wedding Ideas to create the wedding of your dreams.
Visit our Introduction page for great tips and ideas.
Cinderella Theme Wedding

Victorian Dresses

Vintage Themes



Pictures are copyrighted and cannot be used without written permission © 2008 - 2015 unique-reception-theme-wedding-ideas.com ® All Rights Reserved
Click Here to read our disclosure regarding affiliate and advertising sponsors.